This leaked LeEco smartphone has a strange smiley-like camera module... made by Samsung?
8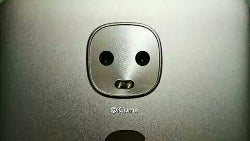 LeEco is a huge tech company, hailing from China, which has only recently entered the smartphone market, and has already made headlines. Well, not for its products per se, but for acts, such as calling Apple
a Nazi innovation oppressor
, launching a bezel-free "superphone", which actually had a bezel, boldly stating "USA, LeTV is coming!" (the company was called LeTV before a fairly recent name-switch), and launching the first production smartphones for 2016
with no headphone jacks
.
So, if anything, LeEco does like to adhere to modern trends in tech, even if they are of questionable benefits. It's not hard to imagine that the manufacturer might play with the idea of a dual-camera smartphone. And so, an alleged LeEco smartphone leaked on the Internet and it has two snappers on its back.
The handset's design surely carries the recognizable LeEco spirit – the front panel has a side-to-side glass panel, creating the illusion of a borderless display. There's a fingerprint sensor dimple on the back, and the plastic antenna bands have been pushed to the far top and bottom edges of the device — just like we've seen on the Meizu Pro 6 and iPhone 7 leaks.
The camera module itself looks a bit weird, with the two sensors and the LED flash are arranged in such a way that they resemble a face. We doubt the designer didn't see this one, in fact – it looks like a playful decision on LeEco's part.
There's no word about the hardware and we don't know whether this is the expected
LeEco Le Max 2 Pro
or not. What we do know is that the dual camera module might be
made by none other but Samsung
.
source: GizmoChina