T-Mobile to allow existing Simple Starter subscribers to get a total of 2GB of LTE data for $5 more
16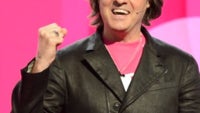 It seems that the fourth largest carrier in the USA, T-Mobile, is once again pushing hard to surpass its closest rival, the
still-ranked third
Sprint. The merger between the two companies became a fiasco and Sprint got a new CEO, who quickly decided to introduce several new
aggresively-priced Sprint Family plans
. The latter, however, were the subject of
a pretty harsh media onslaugh
t by T-Mobile CEO John Legere himself, who
usually makes no bones about his rivals
and their products.
Probably in order to keep up with its competitor, T-Mobile just announced a new option for its entry-level Simple Starter plan, which got launched earlier this year. Initially, it allowed the clients of the fourth largest carrier in the USA to benefit from unlimited talk and text, as well as some 500MB of LTE data for $40 a month.
Well, from September 3 onwards, all those customers who decided to jump on the bandwagon will be able to get four times as much data – 2GB – for $5 more each month. As per the original terms of Simple Starters, T-Mobile won't require users to sign an annual contract. Legere also compared T-Mobile's new offer to the similar one of its rivals and claimed that for smaller amounts of additional data Verizon will charge its subscribers $15 more.
"People who use loads of data use T-Mobile,"
John Legere claimed.
"And it's no wonder. The old-guard telecoms punish people for using more data on their networks with crazy overage charges and fees. Get Verizon's $50 plan and use just one gig more data, and the price jumps to $65. It's crazy. At T-Mobile, we designed our network data-strong so our customers could use the hell out of it. And that's just what they're doing."
Are you a Simple Starter user? Is T-Mobile's new offer appealing to you? Tell us below!
source:
T-Mobile
Recommended Stories