T-Mobile CEO Legere wants you to predict when T-Mobile will leap over Sprint
14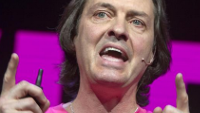 On Wednesday, T-Mobile announced that it was
now the top prepaid wireless carrier in the states,
But that is certainly not enough for the carrier's CEO, John Legere. The outspoken CEO is predicting that by the end of this year, T-Mobile will leap over its rival to become the third largest carrier in the states, including both pre and postpaid customers.
Not that there is a prize, at least not yet, but a tweet sent out by Legere asks you to guess the date and time when T-Mobile becomes the third largest mobile carrier in the states. The executive wants you to send your prediction via tweet, to hashtag #OvertakeSprint. By at least one count, the jump has already occurred, as OpenSignal shows T-Mobile ahead of Sprint, with Boost Mobile at number five.
Judging from the response of T-Mobile's customers to Sprint's decision to back away from buying its rival operator, it sounds like many T-Mobile subscribers had feared that their carrier would lose its edge in the transaction, even though John Legere had reportedly been
tapped to run the combined outfit
. How would Legere fare if it were Dish Network's Charles Ergen signing his paycheck?
source:
OpenSignal
via
SlashGear