T-Mobile's John Legere wastes no time railing on Sprint's new plans
43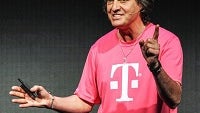 When Sprint's new CEO Marcelo Claure made the announcement of
changes he planned
on implementing with the carrier, new, lower cost rate plans were at the top of the list.
The first of those plans, the
new Sprint Family Share Pack plans
, feature some pretty aggressive price points along a shared data plan. The hook of the plan, 20GB for $100 is promotional, and will only be available for about a month.
The plans themselves are said to be good through 2015, but beyond that, it is anyone's guess. The promotional features of the plans, like contract buy-outs, and extra data, are for new customers. Plus, Sprint's throttling policy is alive and well, so throughput may be restricted if you desire to bust through all of your data no matter what.
Sprint is determined to compete with AT&T and Verizon. However, the fine print of the new plans, along with Sprint's own acknowledgement that it has to be use price to make up for its network, has T-Mobile's outspoken John Legere smelling blood in the water, and took to his famous Twitter feed to let the world know.
What do you think of the new plans?
source:
John Legere
(Twitter)