Starting tomorrow, snag a free Display Dock with your Microsoft Lumia 950 or Lumia 950 XL purchase
3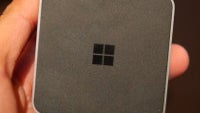 For those of you out there who took the time to
see in action the Continuum feature
available for the Microsoft Lumia 950 and Microsoft Lumia 950 XL,
you probably remember the Display Dock. This is a square shaped device that is outfitted with a pair of USB 2.0 ports, one USB 2.0 high current charging port, HDMI connector, Display Port connector, and a USB-C port. With the ports, users can connect their Lumia 950 or Lumia 950 XL with a physical keyboard, a mouse, and a display. This allows them to turn either handset into a workable desktop computer.
Starting tomorrow, May 24th, and running to June 30th, those in the U.K purchasing the Lumia 950 or Lumia 950 XL from the Microsoft Store will receive a free Display Dock. The accessory is valued at the equivalent of $115 USD.
This repeats a previous offer made last year
in various regions including the U.K., Germany,
U.S. and Canada
.
Supplies of the free Display Dock are said to be limited, so keep that in mind. Those who purchase the Lumia 950 or Lumia 950 XL will find a pre-installed Lumia Offers app on their phone. Click on it and select 'Display Dock.' From there, enter your email address and you will receive a message including a promo code used to order the Display Dock for free. There is also a link that will take you to the page where you can order the Dock from the Microsoft Store. The promo code must be redeemed by July 30th, 2016.
source:
Microsoft
via
WindowsCentral