Continuum hands-on with the Microsoft Display Dock
28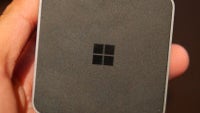 Arguably the most compelling thing shown off at Microsoft's press event yesterday, besides the Surface Book, Windows 10's new Continuum feature is going to add another degree of utility to our phones. We managed to get a quick hands-on look with the new feature using the new Lumia 950 series smartphones, along with the Microsoft Display Dock that's required for it to work.

The square shaped, almost puck sized optional accessory looks like a generic hub of sorts, seeing that it features two USB 2.0 ports, 1 USB 2.0 high current charging port, HDMI connector, Display Port connector, and a USB-C port to connect either of the two Lumia 950 series smartphones. This hub of sorts, combined with a screen, mouse, and keyboard, turns the Lumia 950 series smartphones to a full-fledged PC of sorts – giving us nearly the same Windows 10 experience we get on tablets, laptops, and desktop PCs.

Essentially, the phone is the brains of the operations – while the Microsoft Display Port acts as the nervous system that allows these accessories and peripherals to connect. And that, folks, is what makes Continuum so compelling. The Motorola ATRIX offered something similar a few years back, but Continuum takes it to another level, one that gives us the true power of a real desktop operating system in the palm of our hands.

From running the usual Office suite of applications, to surfing the web using the new Edge browser, the experience is identical to something like a tablet running full Windows 10. However, it's going to be up to developers to really diversify the package, seeing that currently, only "Universal Apps" are compatible to with Continuum. Native apps on the phone, such as the calendar, work fine and scale appropriately, but other third party apps, including some popular touch games, will need to be tweaked in order for them to be compatible.

Of course, it's now a matter of time to see where all of this goes. Right now, however, it seems quite promising for Microsoft. No word yet on the optional dock's pricing, but it'd be nice to find it somewhere around the sub-$50 range to really have an aggressive approach.