Microsoft starts shipping the free Display Dock for U.S. Lumia 950 XL buyers
13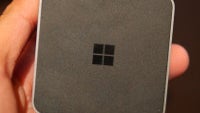 If you purchased a
Microsoft Lumia 950 XL
from Microsoft, you might have already received notification that the free Display Dock you've ordered is on the way.
The dock allows users to engage the Continuum feature
that turns their Microsoft Lumia 950 XL into a computer. Using the Display Dock, users connect a mouse, a physical keyboard, an external hard drive and a computer monitor to their phone.
To snag the Display Dock,
which is free for a limited time from Microsoft
, you need to open the Lumia Offers app that is pre-installed on your Lumia 950 XL. Make sure it is updated to the latest version of the app. Open it and claim the free Dock. Microsoft will then send you a promotion code that you can use when checking out of the Microsoft Store. The code will take $99 off of the purchase price, effectively making it free. The Microsoft Store has posted that the Dock will arrive in 3 to 7 business days, which explains why many of you have received a notification that it is being shipped.
The Nokia Lumia 950 XL is not available in the U.S. from any carrier. It can only be purchased from a physical or online Microsoft Store The smaller
Microsoft Lumia 950
is being offered in the states by AT&T.
source:
WindowsCentral