Microsoft Lumia 950 Review
99+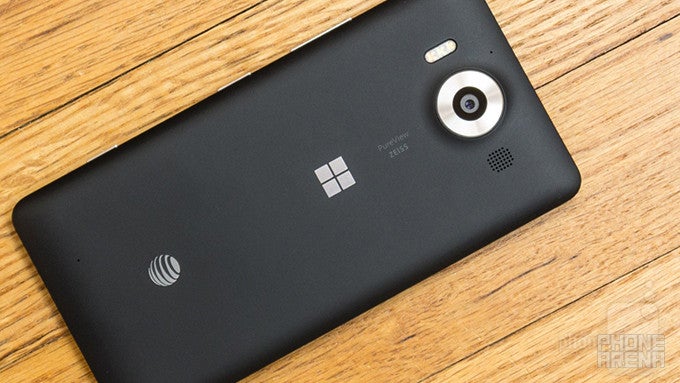 Introduction
Would you believe that it's already been 5 long years since Windows Phone 7 launched? Back then, we saw several manufacturers jump on board in producing devices that showcased Microsoft's mobile platform, but their impact on the market was marginal at best. Fast forward to the present day, and we only have a single entity leading the way – Microsoft itself.
With the launch of Windows 10, however, Microsoft has an ambitious undertaking – to reinvigorate the interest in its mobile platform. Could it be too late, though? Well, Microsoft begs to differ, as its
Lumia 950
has launched to promote the full arsenal and capability of the company's most advanced mobile platform to date.
Entering the holiday season, we're already seeing a handful of quality smartphones vying for supremacy, so there's no denying that the Lumia 950 is attempting to penetrate a space that's heavily saturated. Without question, Microsoft is a legitimate force to be reckoned with, but the Lumia 950 needs a solid, heavy hand to swing the tide in Microsoft's favor.
The package contains:
Wall Charger
USB Type-C to USB Type-A cable
Getting started guide
Warranty Information
Design
It looks more like a prototype than a finalized product.
We're a bit perplexed with the final decision regarding the handset's design, mainly because the handset lacks the style and premium workmanship that many other phones of this class exude. It looks more like a rough, first-round prototype than something that has been meticulously eyed over. Seriously, Microsoft could have opted for a more attention-grabbing look, considering that design is what helps in gravitating prospective buyers to a particular device. The choice of materials, in particular, is what gives the Lumia 950 the feel of a lower-grade Lumia model. With its matte plastic body, one that's offered in white or black, the phone lacks the visual appeal and substance to attract people – it feels somewhat hollow. Unlike previous phones like the
Lumia 1520
or
930
, with their stylish and angular designs, the 950 simply comes off dull and boring. It is not all bad news, however: in the hand, the handset feels lightweight and comfortable to hold. But in all fairness, if we're to peruse the phones on display in a store, we'd certainly overlook the Lumia 950 because of its subdued presence and underachieving design.
As many previous Lumia models, the 950 features a dedicated shutter key on its right edge, and we do appreciate having it at our disposal. It gives us quick access to the camera app and comes in handy when snapping photos. Other notable design choices include the new USB Type-C port. As the connector is reversible, the charging cable conveniently goes in either way. But the new USB standard can make for a tougher time charging when you're away from home, as the still dominant Micro USB cables don't fit.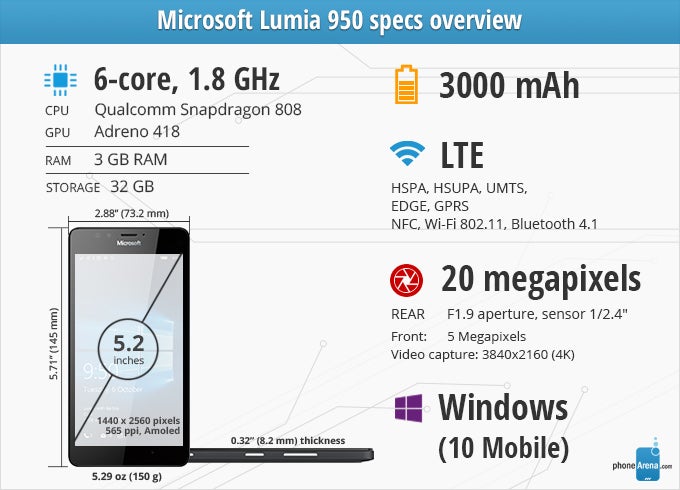 Display
Finally, a Windows-powered phone enters Quad HD territory!
At long last, Windows on mobile has ushered into the Quad HD era, and we're gladly accepting of this reality. Keep in mind, though, that there's really nothing that warrants the Lumia 950 more adulation over its rivals because Quad HD resolution been in circulation for quite some time now. With the Lumia 950, we're given a 5.2-inch, 1440 x 2560-pixel AMOLED display with the reflection-reducing ClearBlack technology. Certainly, there's no shortage of details with the screen's pixel-crushing 564 ppi pixel density.
Being of the AMOLED variety, the display exhibits all of the staple qualities of the technology – pure, deep black, fantastic clarity at wide viewing angles, rich contrast, and that unmistakeable glow in the dark. While our eyes tell us that we have a pleasant display here in the Lumia 950, the benchmarks help to validate that. Its color reproduction manages to accurately hit all of the target values in the sRGB color gamut chart. For all of its top-notch qualities, however, its luminance tops out at a mere 349 nits. That's just underpowered by today's standards, which is why the Lumia 950 might be trickier to use under the sun compared to other recent high-end phones.
Pure and simple, there's very little to complain about the Lumia 950's display besides its weak brightness output. It's just that, you know, we've seen Quad HD screens time after time in many other contemporary handsets.
Display measurements and quality
Recommended Stories