Spotify Charts now live globally; see which tune is number one with a bullet
1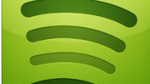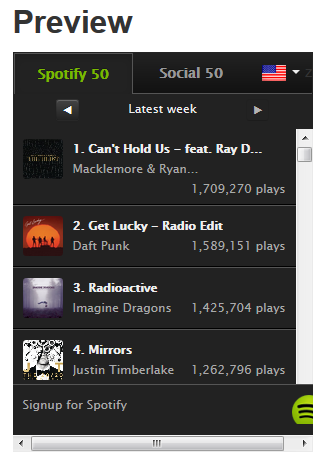 Spotify's embeddable widget shows off its top 50 tunes each week
Music streaming service Spotify has a new embeddable widget available called
Spotify Charts
which has just launched on Tuesday. These charts reveal the most listened to tracks on the service during the past week (the Spotify 50) and the tracks most shared amongst Spotify users during the same week (the Social 50). The charts will be updated each Monday. For the week ended May 19th, Macklemore & Ryan Lewis were number one in the Spotify U.S. charts with "
Can't Hold Us
" featuring Ray Dalton. "
Get Lucky
" by Daft Punk was second while Imagine Dragon's "
Radioactive
" was third. Justin Timberlake's "
Mirrors
", and Pink's "
Just Give Me A Reason
" were fourth and fifth respectively.
The widget can be embedded onto a website and will show the top songs in the 28 different markets covered by Spotify. The tunes can be played right off the charts. Steve Savoca, Head of Content at Spotify, says, "
What's so powerful about the streaming charts is they let you hear what people are really listening to, right now, and not just what they're buying
." The widgets
change automatically
each Monday at Noon Eastern Time. In addition, Spotify users can see global play counts for each artist's top songs, dating back to 2008. This feature will first be available on the desktop client before getting rolled out to the mobile app.
The streaming music service has
recently run into competition from Google Play Music All Access
. Eventually, Apple will launch its
iRadio
streaming music service which has been
delayed due to problems the Cupertino based firm has had
coming to terms with the record labels. Since Apple plans on not charging for its service, making money from mobile ads instead, Spotify could soon run into some problems. The latter charges users for its service and to make matters worse, it is believed to have the highest payout rate in the industry, paying 35 cents for each 100 songs streamed. In comparison, Pandora pays just 12 cents for each 100 tracks it streams.
Apple has been trying to get deals from the major labels like Sony Music and Warner Music
at 6 cents per 100 songs streamed. It plans on offering the labels a portion of the advertising it generates from the service.
source: Spotify,
SpotifyCharts
via
Engadget