Google announces Google Play Music All Access: "Radio without rules."
8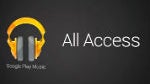 We've been waiting for this announcement for a while. We had heard bits and pieces of Google signing up
Universal
, and
Warner Music
, then just yesterday we got word that
the last pieces
were in place. Today, we got the full announcement for Google Play Music All Access, which is what Google calls "Radio without rules."
As far as Google is concerned, the current offerings for streaming radio aren't the best way to provide the service, and calls managing a queue "a chore". Google wants to make this experience better by mixing together a number of different features. First is the music discovery system that is already built into Google Music, so discovering new music is made easier. This becomes the backbone of the automatically generated radio stations, much like Google Music already offers Instant Mixes.
Next is ease of access. According to Google, the aim was to build "A music service about music and the technology fades into the background." So, when you go into the Music app, you'll see your normal library of music, and any other music you see will be available to start playing instantly with All Access. If you find something you like, you can add albums to your library, and
Play Music will combine your personal music library with your All Access library
into one view, so it is easier to find what you want as compared to say Spotify.
You can also have any song made into a radio station, and the playlist will automatically be built in the background. But, as per the "Radio without rules" tagline, you can swipe away tracks you don't want, and re-order the tracks in the queue to really make the radio station into what you want it to be.
Google didn't give specifics, but said that there would be "millions of songs" available for the service, and from what we've heard Google has signed on all major music labels, so it may just be the smaller indie labels that aren't included. There will be 22 top-level genres to choose from and sub-genres in each, as well as "expert-powered recommendations" for each genre, playlists, and albums.

The standard price for Google Play Music All Access will be $9.99 per month, but as a launch promotion, everyone is getting one month of free service. And, if you decide to sign-up for a subscription before June 30th, you'll get a discount and only pay $7.99 per month. No word on when the service will formally launch.
source: Google
Recommended Stories