Sony Tablet P and Sony Tablet S get updated to Android 4.0.3
3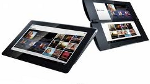 Back in April, the
Sony Tablet S received the Android 4.0 update
, becoming one of the
first Honeycomb flavored tablets to make the jump to Ice Cream Sandwich
. That tablet, the more traditional of the Japanese manufacturer's two models, is getting further updated on Thursday to Android 4.0.3. But what about the Sony Tablet P, the model with the
unconventional looking clamshell form factor?
The good news is that this device is also the recipient of the update, albeit in selected markets only.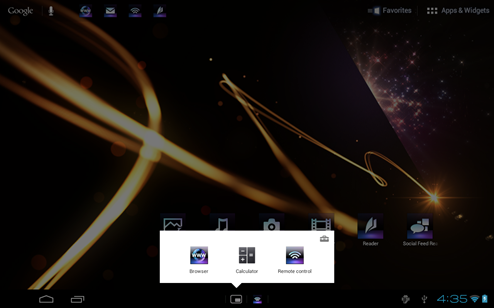 Sony's Small Apps puts your most used apps on top of other functions
According to Sony, Android 4.0.3 brings a new UI to the tablets, including the ability to create folders using 'drop and drag' gestures. Holy webOS Batman! Apps that you are done using but remain open on the screen can be closed by swiping them off the display so as not to tax the tablet's internals with a program that is running but that no one is using. The improved web browser now allows you to
toggle between desktop and mobile rendering
and pages can be saved for offline viewing. Some of these new features are designed to save you from reaching your monthly data cap so quickly. No one likes to get throttled, especially when they are paying for it.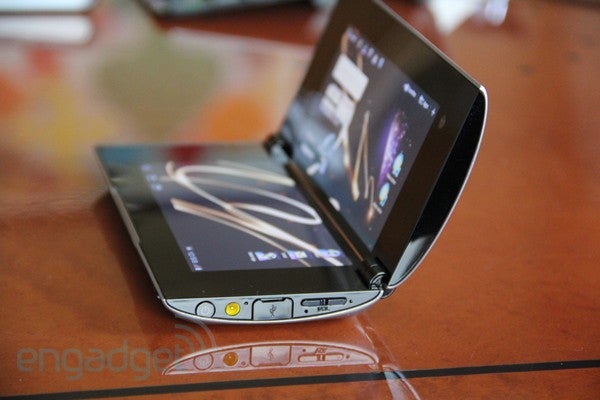 Side view of the clamshell look of the Sony Tablet P
Some of the new features brought to the tablets by Sony include the ability to store and access content from a full-sized SD card. Functions you use often are now kept on top of the screen thanks to the "Small Apps" update. With the update, certain functions like the Browser, Remote Control (Tablet S only) and Calculator apps are within instant reach thanks to the "always on top launcher" icon. You can quickly bring up a web site, change television channels or due some calculations all while using your tablet for something else. The Android 4.0.3 update also carries with it updates for the camera including
improved editing features
while a wider choice of Slideshow Templates makes going through your photos more enjoyable.
All Sony Tablet owners will be alerted of the update to Android 4.0.3 and given the option to install it. In addition, Sony Tablet users are eligible to receive a free copy of the game Super Stardust available at the PlayStation Store.
source:
Sony
Sony Tablet keeps evolving with Android 4.0.3
21 May 2012
Latest update teams operating system enhancements with unique new features and apps from Sony
Streamlined user interface, with drag & drop folder creation, improved multi-tasking and browser
Updated features by

Sony

, including direct access to full-sized SD card, always-on 'Small Apps' and enhanced photo viewing options

Sony Tablet™ is evolving to give you an even speedier, more satisfying multimedia experience.
Available in Europe by the end of May as a free update for all Sony Tablet users, latest Android Version 4.0.3 (also known as Ice Cream Sandwich) brings many new features and operating system enhancements to Sony Tablet S and Tablet P models. Alongside a major user interface overhaul, the update includes a number of new Sony-unique apps and functionality.
Android 4.0.3 brings an even more intuitive, consistent feel to the Sony Tablet experience. Now it's easy to create folders on your Workspace with simple drag and drop gestures. Recently-used apps can be dismissed with a swipe, avoiding multiple apps running unnecessarily in the background. A more responsive browser lets you toggle instantly between desktop- and mobile-optimised web sites. Pages can also be saved for offline reading at leisure when you're away from a wireless connection.
Unique apps and enhanced features from Sony
On top of all the enhancements provided by Android 4.0.3, unique additions by Sony further personalise your multimedia user experience.
Sony Tablet S users can now directly access and view content stored on removable full-sized SD card. This makes Sony Tablet an even more attractive choice for viewing photos and video clips shot on a digital camera or camcorder. Just slip your camera's SD card into Sony Tablet and enjoy on the detail-packed touchscreen – or store and share online with PlayMemories, the cloud-based service from Sony (NB: PlayMemories Online is available in the UK, France and Germany).
Frequently used functions are kept in easy reach with a new
All Sony Tablet owners will be automatically notified and offered the option to upgrade their operating system to Android Version 4.0.3.


For more information please contact