Sony Tablet P Review
17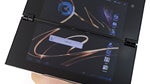 Introduction:
For a company that's still getting its foot established in the US smartphone market, we were surely impressed with the
Sony Tablet S
when it was released for too long ago, which was remarked as Sony's first step into the Android Honeycomb realm. Following in suit, the
Sony Tablet P
sports nearly the same hardware specs, but there's something visually different about it. Of course, we know that Sony is all about making statements – and they're surely doing it with this. Donning a foldable design, stuffed with two 5.5-inch displays, it's obviously going to stand out amongst the crop for being, you know, different. Well, its fresh appearance is seemingly eye-catching, but let's find out if it's practical for a tablet.

The package contains:
Wall Charger
Quick Start Guide
Design:
Simply, we have to say that the Sony Tablet P is a quirky little one – that's because our curiosities are stirred upon gazing it for the first time. Thinking about it more, to us, it seems as though Sony has reinvented the clutch bag because when it's closed, it really looks like some kind of modern one. Thankfully, its unusual design contributes to its allure, but at the same time, we're content with its overall sturdy build quality – even despite its all-plastic body. Unlike most of its rivals, the Sony Tablet P is easily tucked away in a bag due to its smaller footprint when it's closed, thus, making it extremely travel friendly. Ultimately, we have to give kudos to Sony for concocting something that easily captures our attention, especially when it's one of the few tablets to stay away from the usual slab design.

On the
left edge
of the Tablet P, there's a lonesome notch that's used for its internal speaker, while on the
right side
, it lays claim to most of its buttons and ports. Specifically, it consists of the flush dedicated power button, proprietary power port, microUSB port for data connectivity, microphone, and volume control.
Although it's difficult to see, that's a strip placed in the
lip of the tablet
that helps us open up the tablet, and in that lip lies an LED light that pulsates in green whenever it receives notifications. Placed near the
hinges
of the tablet, there are latches that enable us to remove its rear cover, which then allows us access to its 3,080 mAh battery and microSD card slot.
For those wondering about its
cameras
, there is a VGA front-facing one placed in the top right corner when it's fully opened, while the other 5-megapixel auto-focus camera is placed oppositely in the outer casing.
Display:
Much like the long forgotten
Kyocera Echo
, the Sony Tablet P also comes to the table bearing two displays sizing up at 5.5-inches a piece. Considering that each
5.5" TruBlack LCD panel
boasts a resolution of 1024 x 480, it's detailed enough to make out fine text without much fluff. Along with that, it's true to its name because the color black is prominently, you know, really dark in tone. Furthermore, its cooler production enables colors to jump out at us – though, its viewing angles are questionable since distortion is evident at moderate angles.
Unfortunately, the biggest distraction we see is the over 1/4" bezel separating the two screens, but even worse are the 1-inch sized bezels surrounding both sides of its displays. Essentially, they make it very difficult to type messages seeing we have to extend our fingers even further to press something. Frankly speaking, the dual-screen form factor is effective in garnering attention, but it simply doesn't work out because we have more frustration just trying to handle it.
Recommended Stories