Small and compact smartphones: here are the best ones you can get right now
40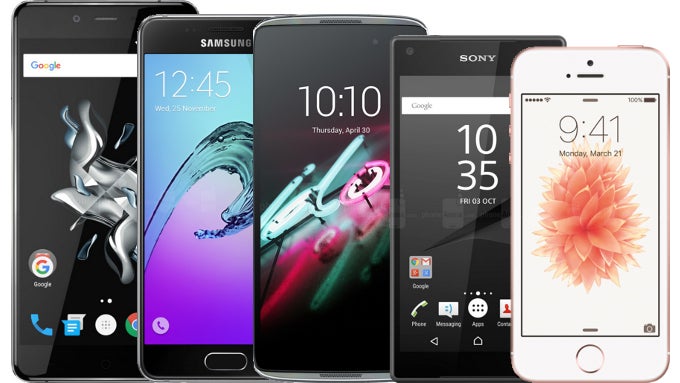 For the past few years, the trend for large smartphone displays has basically become an industry standard. Nowadays, we consider a 5.2-inch display to be "normal", and a smartphone screen is considered "large" well after it breaks the 5.5-inch barrier. Being able to fit more, or just bigger, content on the phone's display seems to be a much more desirable feat than just having a small device that's a breeze to handle and fits in just about any pocket.
But users that prefer the latter have not been forgotten. It appears that they are considered a niche, one that doesn't demand performance, seeing how many small smartphones are actually entry-level class, but there are also a few compact gems out there that can deliver as snappy of an experience as their bigger brethren. So, if you are one who cares much more about portability than media consuming, and wants a handset that can be stealthily tucked away when not in use, check out the models below – one of them might be the right choice for you!
The obvious pick: Apple's iPhones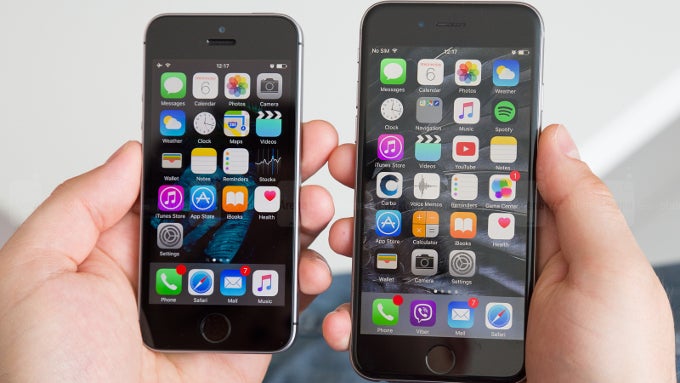 Apple has long been vocal about wanting its phones to be usable with one hand. The company stubbornly stuck with the 4-inch diagonal all the way up to the
iPhone 5s
, while its competition was breaking the 5-inch threshold. By today's standards, the
iPhone 6s
' 4.7-inch diagonal is still considered pretty much compact, especially since it's assisted by the phone's rounded corners and thin profile. If that's not small enough for you, you can always go for the recently launched
iPhone SE
, which resurrected the iPhone 5s' small, 4-inch display and square-ish form factor.
Whichever one you pick, rest assured that the iPhone 6s and iPhone SE offer the most powerful hardware and camera on a compact smartphone that money can buy right now. The SE does have some corners cut, however — its selfie camera is a 1.2 MP blast from the past, and the phone's TouchID sensor is a bit slower, as it's the first gen one that was featured on the iPhone 5s. If Apple's offerings sound alluring for you, check out the below articles to get more insight on which phone is the better choice for you. If iOS and Apple's ecosystem are not your cup of tea – worry not, we've got plenty of suggestions to follow!
The compact Android powerhouse: Sony Xperia Z5 Compact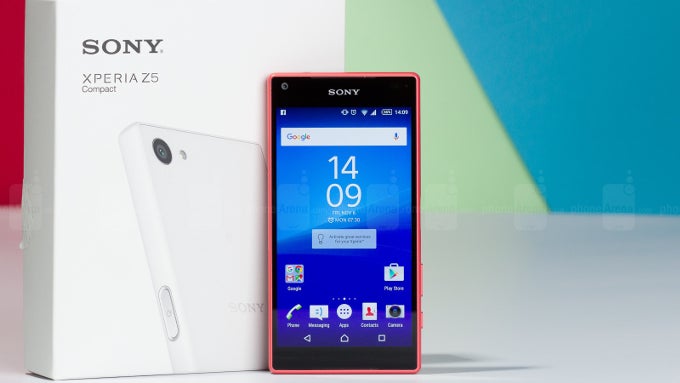 Sony certainly won a few admirers by launching a Compact branch for its Xperia Z flagship line. While competing Android manufacturers were launching underpowered and neglected "Mini" variants of their top-tier smartphones, Sony's Compact models offer the same processor, camera, and software options as the "regular" Xperia Z devices. The results are obvious – it has been a long while since we've seen a "Mini" model of any other flagship (save for LG, who insists on launching Beat, C, S, Stylo, and other variations of its G line), while the Z Compact series is still alive and well.
So, if you are after a small Android smartphone, but don't want to compromise in hardware – the
Sony Xperia Z5 Compact
is certainly a good model to look at. If you wish to save up on some cash, the
Xperia Z3 Compact
is still a good device to pick up as an upper midrange class handset. It has also been
updated to Android 6.0.1 Marshmallow
, so rest assured that it's still up on software standards.
That said, we did have some issues with the Z5 Compact when we reviewed the phone, and we'd suggest you check out our full reviews to get a better idea if that's the handset for you.
On a budget
Of course, not everyone wants to throw a pile of money on a smartphone. Thankfully, there are plenty of budget-oriented options out there right now, many of them being small phones. We've got three of our favorites listed below, two being Android handsets, and one Windows Phone offering!
Alcatel's IDOL 3
was certainly a pleasant surprise
when we got to review it
. It's a bargain-priced handset with not very powerful hardware, but its sleek design and surprisingly light interface more than made up for that. The handset also features a gimmick, which allows you to turn it in any way you desire – its body is entirely symmetrical, its interface will turn upside down, and both its grilles on the front can act as microphones and earpieces. We can't say we care much for that — it's the performance, design, and pleasant display of the $180 handset that we liked. Still, this is a low end handset with a Snapdragon 410 SoC, so don't expect it to do miracles when under pressure.
Samsung's Galaxy A3 (2016)
is certainly a good-looking low-ender. It doesn't pack a lot of power under its hood and rest assured that TouchWiz will not be at its best behavior with the limited hardware of the device, but it's pretty, it's compact, has Samsung's signature Super AMOLED display, and a 13 MP camera. For about $300, this phone offers a taste of premium looks and feel. Just make sure you grab the 2016 model, as the
2015 Galaxy A3
is noticeably worse.
Microsoft's Lumia 550
is the company's entry-level offering. Unfortunately, Lumias are notorious for having pretty thick bezels, so if you wish to get at least a
Lumia 650
, which has a 5-inch display, you will easily pass the threshold of what is considered "compact". In any case, Microsoft's mobile Windows 10 operating system is known for being able to do well with minimal hardware specs. While this handset won't do great with heavy tasks, just like the other two in this section, expect it to be generally responsive with simple, daily phone tasks and web-browsing.
Middle of the way: OnePlus X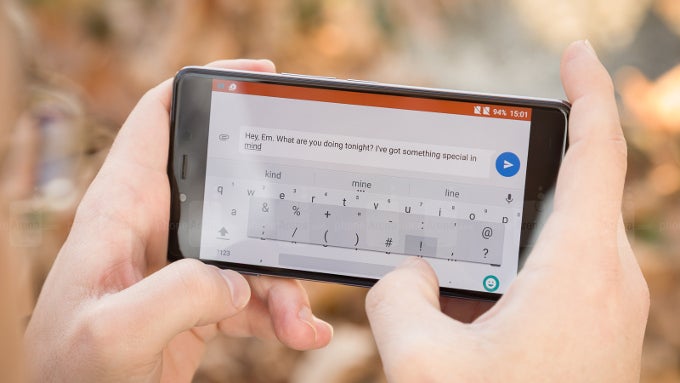 OnePlus is better-known for its
OnePlus One
and
OnePlus 2
smartphones — flagship-grade handsets that offer powerful hardware at aggresive pricing. The company did a little sidestep with the
OnePlus X
, which got a last generation processor, but a more compact form factor and shiny looks. For $250, the OnePlus X is a pretty good upper-midranger, with an almost stock Android experience on board.
Unfortunately, the device does not come without its issues. It's not a great performer, its camera struggles a lot when the light is less than favorable, and its earpiece was surprisingly bad. Still, we think that for the price, it's a good phone — do check out our full review to get a better picture of what the phone offered us during review.
Get exotic: Xiaomi and OPPO
These are a couple of brands that are less-known in the West, but they certainly have their fair share of fans — especially Xiaomi, who tends to offer bargain-priced phones with good specs and its own unique user interface. Just be careful when ordering one – these companies still don't have established retailer channels to the US, so buying one of their smartphones usually works through 3rd party retailers, and these will sometimes tamper with the phone's software, adding a nice package of malware or just unwanted apps.
Xiaomi's Redmi 3
is considered a lower tier device, but still has a Snapdragon 616 under its hood — a pretty good SoC, considering the $170 price-tag — and packs a very impressive 4,100 mAh battery. In our experience, the MIUI interface tends to save power by killing background processes zealously, so this phone should provide some pretty good longevity on a single charge.
The
Xiaomi Mi 4s
is an updated version of the
Mi 4c
. While its insides remain largely the same (Snapdragon 808), it is now dressed in metal and has a fingerprint scanner on its back. We liked the camera of the Mi 4c
when we reviewed it
and if the one on the Mi 4s is the same, we'd say it's gonna be a great performer, unless in a low light environment. We did have an issue with our notifications not coming through on time due to MIUI's aforementioned tendency to scrape background processes, but, if still present, that's an issue some might be willing to learn to live with for the $360 price-tag.
The
OPPO R1x
offers an elegant design, with its metal frame and reflective back, and midrange hardware for a price-tag somewhere south of $400. Unfortunately, it's a bit hard to track down, but that only makes it more exotic, right? The phone offers a decent camera, good battery life, and a unique user interface, all in a relatively compact package.