Apple iPhone SE vs iPhone 6s vs iPhone 5s: three-way specs comparison
8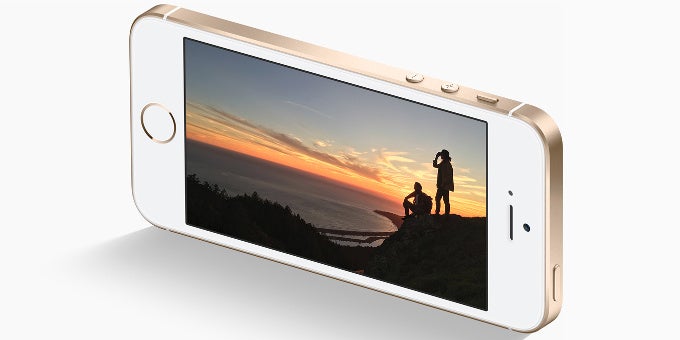 The rumors were true, Apple today announced a new 4-inch iPhone, the iPhone SE, which is combining the refreshed looks of the iPhone 5s with the undoubtedly spectacular hardware specs of the iPhone 6s/6s Plus.
Indeed, it's probably the most powerful 4-inch smartphone we've ever seen, and given its quite affordable price of $399, there will most probably be huge demand for the munchkin.
But how does it stacks against its predecessor and the slightly larger and newer iPhone 6s? As were also quite curious to compare them against one another, we devised a three-way specs comparison between the Feel free to check out right below!
500 cd/m2 (nit)
500 cd/m2 (nit)
500 cd/m2 (nit)
Oleophobic coating, Ambient light sensor, Proximity sensor
Pressure-sensitive, Oleophobic coating, Scratch-resistant glass, Ambient light sensor, Proximity sensor
Oleophobic coating, Scratch-resistant glass, Ambient light sensor, Proximity sensor
Apple A7 (28 nm)
Apple A9 APL0898
Apple A9 APL0898
Dual-core, 1300 MHz, Cyclone, 64-bit
Dual-core, 1840 MHz, Twister, 64-bit
Dual-core, 1840 MHz, Twister, 64-bit
PowerVR G6430
PowerVR GT7600
PowerVR GT7600
64GB, not expandable
128GB, not expandable
128GB, not expandable
iOS (12.x, 11.x, 10.x, 9.x, 8.x, 7.x)
iOS (15.x, 14.x, 13.x, 12.x, 11.x, 10.x, 9.x)
iOS (14.x, 13.x, 12.x, 11.x, 10.x, 9.x)
10.4 days (250 hours)
the

average

is 29 days (688 h)
10.0 days (240 hours)
the

average

is 29 days (688 h)
10.0 days (240 hours)
the

average

is 29 days (688 h)
10.00 hours
the

average

is 0 h (0 min)
14.00 hours
the

average

is 0 h (0 min)
14.00 hours
the

average

is 0 h (0 min)
3G: 10 hours; LTE: 10 hours; Wi-Fi: 11 hours
3G: 12 hours; LTE: 13 hours; Wi-Fi: 13 hours
40.00 hours
50.00 hours
50.00 hours
10.00 hours
11.00 hours
13.00 hours
Single camera
Single camera
Single camera
8 MP (Sapphire crystal lens cover, Autofocus, BSI sensor)
12 MP (Sapphire crystal lens cover, PDAF, BSI sensor)
12 MP (Sapphire crystal lens cover, Autofocus, BSI sensor)
Aperture size: F2.2; Focal length: 29 mm; Sensor size: 1/3"; Pixel size: 1.5 μm
Aperture size: F2.2; Focal length: 29 mm; Sensor size: 1/3"; Pixel size: 1.22 μm
Aperture size: F2.2; Focal length: 29 mm; Sensor size: 1/3"; Pixel size: 1.22 μm
1920x1080 (Full HD) (30 fps), 1280x720 (HD) (120 fps)
3840x2160 (4K UHD) (30 fps), 1920x1080 (Full HD) (120 fps), 1280x720 (HD) (240 fps)
3840x2160 (4K UHD) (30 fps), 1920x1080 (Full HD) (120 fps), 1280x720 (HD) (240 fps)
Time-lapse video, Picture-taking during video recording, EIS
Time-lapse video, Continuous autofocus, EIS, Video calling, Video sharing
Time-lapse video, Continuous autofocus, Picture-taking during video recording, EIS, Video calling, Video sharing
1.2 MP
5 MP
1.2 MP
1280x720 (HD)
1280x720 (HD)
4.87 x 2.31 x 0.30 inches (123.8 x 58.6 x 7.6 mm)
5.44 x 2.64 x 0.28 inches (138.3 x 67.1 x 7.1 mm)
4.87 x 2.31 x 0.30 inches (123.8 x 58.6 x 7.6 mm)
3.95 oz (112.0 g)
the

average

is 6 oz (171 g)
5.04 oz (143.0 g)
the

average

is 6 oz (171 g)
3.99 oz (113.0 g)
the

average

is 6 oz (171 g)
Back: Aluminum
Back: Aluminum
Back: Aluminum; Frame: Aluminum
Fingerprint (touch)
Fingerprint (touch)
Fingerprint (touch)