Sony Xperia Z5 Compact Review
99+
UPDATE:

You can now read our Sony Xperia Z5 Premium Review!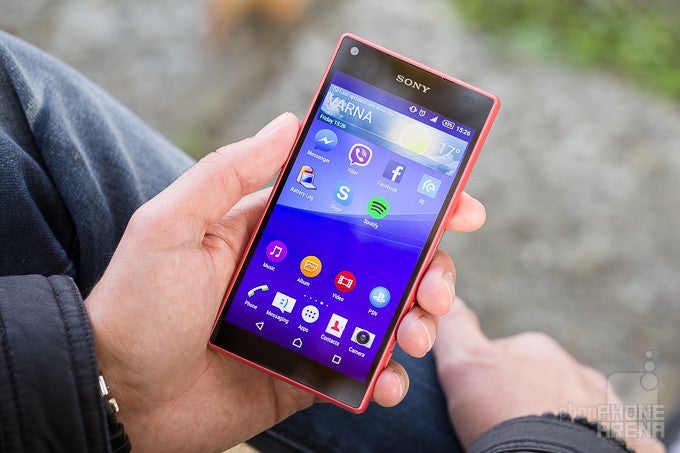 Introduction
We don't know about you, guys, but we find great joy in reading old smartphone reviews. They don't just bring out that warm, soothing feeling of tech nostalgia. They can also be an amusing read – going back to our
Sony Ericsson Xperia X10 review
, for instance, reminds us that a 4-inch display was considered huge only 5 years ago.
Times have changed since then. The average smartphone has grown in size, and so has its screen diagonal, which now hovers around the 5-inch mark. At the same time, those not ready to accept a smartphone of such proportions must be finding it increasingly hard to come across a truly powerful handset.
That's the kind of folks the
Sony Xperia Z5 Compact
is made for. While relatively small in size, as suggested by its 4.6-inch screen diagonal, the smartphone packs most of the features and hardware muscle one would get from the brand's flagship, the
Sony Xperia Z5
. To be more specific, the Compact is equipped with a top-shelf processor, snaps photos with a 23MP camera, resists water ingress, blasts sound through stereo speakers, and promises great battery life. Not bad for a phone of this caliber, is it?
Okay, that's enough chatter. Let's take the Xperia Z5 Compact for a spin and see what it has to impress us with.
In the box:
Xperia Z5 Compact
Wall Charger (Output: 5V, 1.5A)
Micro USB cable
Quick Start guide
Design
You want a truly compact, pocket-friendly smartphone? Here you go!
What is it that makes a compact smartphone compact? Is it that it fits in the smallest of pockets? Or that it fits nicely in smaller palms? Or that it is easy to hold and ideal for use with one hand? Of course, all of these factors are of importance, and the Sony Xperia Z5 Compact does tick most of the right checkboxes. It is a very pocket-friendly phone and one highly suitable for single-handed use. Furthermore, folks with palms of smaller size will enjoy handling Sony's petite handset – we did confirm this with a couple of lady friends. But the phone's shape has a negative impact on ergonomics.
You see, when it comes to smartphones, Sony's current design language favors flat surfaces, straight lines, and rectangular shapes. From a purely visual standpoint, there's nothing wrong with that – a phone built around these principles has a classy, professional, timeless look. This applies to the Xperia Z5 as well. But on the flipside, the edges and corners of the Xperia Z5 Compact have barely any roundness to them and don't feel nice against the palm. That's not too big of a deal, but we had to mention it.
Size and shape aside, the Sony Xperia Z5 Compact is built within a plastic frame, with glass covering its front and back sides. The back, in particular, is made of what Sony calls frosted glass, and one should think of it as glass treated to a matte finish. There's a benefit to choosing the latter over regular, glossy glass: fingerprints don't stick to the back's non-reflective surface. But on the downside, some folks will find the finish too slippery.
It might not look like it, but the Sony Xperia Z5 Compact comes with a pair of front-facing stereo speakers. The good news is that their openings – barely noticeable slits between the frame and glass panel – don't spoil the looks of the phone in any way, as it was the case with the
Xperia Z3 Compact
.
There's another noteworthy perk that sets the Xperia Z5 Compact apart from most other smartphones – the handset carries an IP65/68 certification, meaning that it is resistant to dust and water damage. However, while the Z5 Compact will survive accidental spills and being caught in the rain, you are strongly discouraged to submerge the phone completely underwater, especially if it is of the salty kind. In fact, improper use will invalidate your warranty. In any case, you must ensure that the cover protecting the SIM and microSD card slots is firmly in place, as that's what stops dust and moisture from entering. Thankfully, no flap is needed for the Micro USB port at the phone's bottom.
On the right side of the Xperia Z5 Compact reside all of its physical buttons – a power key in the middle, a volume rocker beneath it, and a 2-stage camera shutter. Disappointingly, these have not been designed well. The power button is soft, and accidental presses were common in our experience, but the volume controls are even more annoying. The volume rocker is just tiny and operating its buttons feels like pressing a sponge. On top of that, the rocker can't be reached comfortably due to its awkward placement. At least the camera button works fine. It comes in handy while shooting photos, and long-pressing it will launch the camera from any screen.
Speaking of buttons, the Sony Xperia Z5 Compact has a fingerprint scanner built into its power key. Naturally, its main purpose is to replace your lock screen and it does a good job at that. The scanner is fast and reliable, with a very high rate of successful readings. Due to its placement, however, the scanner is less convenient to use when the Z5 Compact is held in the left hand. Sorry, lefties!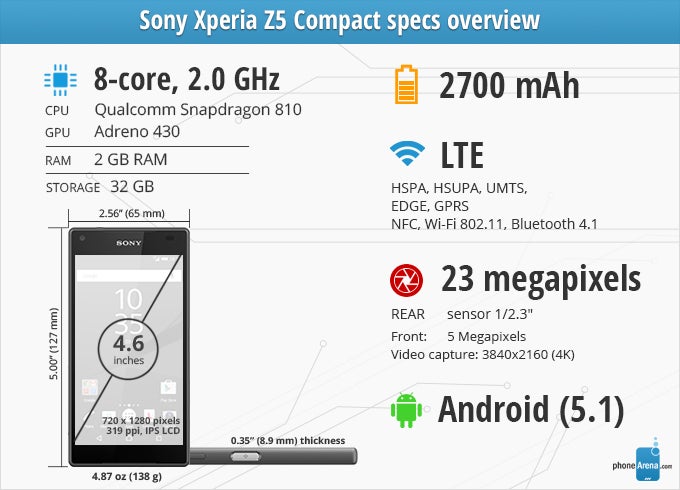 Display
The screen gets the job done, but we were expecting better quality given the phone's price.
The Sony Xperia Z5 Compact comes with a 4.6-inch IPS LCD display. By today's standards, that's a screen size below the average, and that on-screen buttons eat up precious space does not make things any better. On one hand, there's nothing holding you back from playing a game of Need for Speed or watching an episode of Voltron on a Z5 Compact. But on the other, these and other activities are more enjoyable on a bigger screen. When chatting, for instance, the on-screen keyboard occupies more space than the actual text conversation. Although the UI is also to blame for this imperfect experience. We're not saying that a 4.6-inch screen is too small or impractical. It just has its obvious limitations when compared to larger offerings. Those demanding a compact phone, however, should do just fine with what the Z5 Compact has to provide.
In terms of resolution, the Z5 Compact's display packs 720 by 1280 pixels, which translates to a density of 319 pixels per inch. The screen that Sony went for is sufficiently clear and crisp, which makes it perfectly usable. However, it would have been nice seeing a screen of higher resolution in its place, seeing that this is a rather expensive phone we're dealing with. On the plus side, lower resolution means better gaming performance.
Sony could have paid more attention to color accuracy. Our display measurements show that the Xperia Z5 Compact's screen has a color temperature exceeding 9000 kelvins, and that's quite far from the reference mark of 6500K. The screen appears blueish because of that. And the delta E figures, which indicate the screen's accuracy across the color spectrum and grayscale range, are average at best. It is nice that color accuracy can be tweaked from the settings menu, but we don't see many Z5 Compact owners actually doing that.
Where the Z5 Compact truly shines, however, is in the brightness category. With a peak output exceeding 700 nits, the phone's screen is one of the brightest around, which explains why outdoor visibility has never been an issue during the weeks we spent testing the phone.
Before we move on, we must mention that the Xperia Z5 Compact remains usable even when its screen or your fingers are wet. There's also a Glove Mode, which can be triggered manually, but if you don't plan on actually using the phone with gloves on, we'd recommend you to leave the feature off. Having it on results in frequent accidental taps when the phone is used with bare fingers.
Display measurements and quality
Recommended Stories