Sony Xperia Z3 Compact Review
90
You can now read: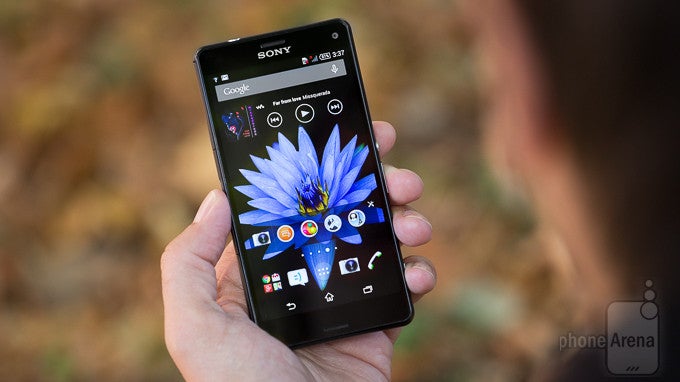 Introduction
Compact in size, but not in performance: welcome to the Sony Xperia Z3 Compact.
Nearly a year after Sony released its first
Xperia Z1 Compact
following a simple recipe for a non-compromise flagship-grade device in a compact size, it's time for its successor: the
Z3 Compact
. While last year's Z1 Compact was in a class of its own, as practically all other Android manufacturers were making only cut-down versions of flagships that were just not as powerful or alluring, this year, competition has just started to appear. The Z3 Compact, however, has time on its side: Sony has tried to keep what people liked about the original Z1 Compact, and improved on the things that needed some polish. Despite getting a larger, 4.6" screen, the Z3 Compact remains just as petite and single-hand-use-friendly as the original, and it's got an even faster processor and longer-lasting battery.
Sony, however, admits that hardware innovation has plateaued recently, and in the Z3 Compact the bigger focus was on software. And software is where Sony starts to really bring all of its know-how together: the Z3 Compact can connect to a PlayStation 4 and basically mirror games: hook it up to a DualShock controller and you have the PS4 experience on your smartphone. It also leverages hi-res audio and image processing technologies from grand-parent Sony.
Interestingly, Sony also simply skipped a generation and went from the Z1 Compact straight to the Z3. Let's see if the change is as big as this leap suggests.
In the box:
1.5A wall charger
Sony MDR-NC31E Digital Noise Cancelling headset (only included in some markets)
User manual
microUSB Cable
Design
With a mass exodus to larger screens and subsequently bigger devices all across the Android top-end, the spec-stuffed Sony Xperia Z3 Compact is a welcome change with its petite dimensions. In fact, it retains the same width and height as its 4.3" predecessor, while at the same time packing a more spacious, 4.6" display. This remarkable feat is achieved by reducing the screen bezel all-around, so that the screen can occupy 70% of the front side. Needless to say, such a compact 4.6" phone fits easily in pockets and is a pleasure to use with a single hand. Speaking of size, the Z3 Compact is also thinner than its predecessor - it clocks in at 8.6mm (0.34") thickness, and it's lighter as well.
While at first sight the handset looks similar to its predecessor, the devil is in the detail and little changes make a big difference: first, the bolder, more vivid and lively colors (the Z3 Compact comes in a choice of white, black, orange, or green) add character, but also gone are the metal sides of the original, and instead we have a special plastic material with a very captivating translucent finish (something that Sony calls a "rounded liquid reflection frame"). It's unlike any other phone we've recently seen on the market, and - in combination with the bold color options - it definitely makes the Z3 Compact design stand out.
In terms of materials, the Z3 Compact features tempered glass panels on the back and the front, which don't get scratched as easily as the plastic panels on the Z1 Compact. The front now also matches the color of the backside - another minute detail that Sony has worked out in the Z3 Compact. Interestingly, Sony has embedded separate pieces of polycarbonate on the four edges of the phone, which should theoretically take the hit if you drop your phone and help it resist impact better.
Up front, there are stereo speakers (more on sound quality later) and no buttons as it usesvirtual, on-screen Android navigation keys. Тhe rest of the keys are on the right hand side of the device. The signature round Sony power/lock key is in the middle, with slightly evolved looks, a bit larger size and a nice click. Тhere is the tiny volume rocker below it and also a dedicated camera shutter key. The left of the phone is where all the ports and slots are located, but all of them fit seamlessly in the design and you'd have to pry open the protective lids to actually see them. This is the place to note that apart from the standard microSD card slot, you have a slot for a nanoSIM card, and not microSIM here. And if you don't want to open the lid every time to access the ports to charge up the device, there's also a magnetic connector on the left of the phone that you can use with a Sony dock as an alternative charging method.
On top, there is a microphone and a new, 5-pin 3.5mm headset jack (don't worry, it's perfectly compatible with all headsets) that enables the neat noise-cancellation effect on the bundled-in earbuds. On the bottom, Sony includes a second microphone and something typical for smartphones out of Japan - a lanyard eyelet.
We've left one of the best design features last: the Z3 Compact is waterproof and carries an IP68 certification. What this means is that Sony's compact gadget is protected against dust and can withstand immersion in fresh water up to 5 feet deep for as long as 30 minutes. Nice!
Display
A 4.6" display in the same body as the 4.3" Xperia Z1 Compact is an impressive feat, but screen quality on the Z3 Compact is underwhelming.
The Z3 Compact comes with a 4.6-inch 720x1280 pixels IPS display featuring Sony's TRILUMINOS technology. Some people would be disappointed with the fact that Sony has not gone for a 1080x1920 Full HD display (and yet others will point out that we already have Quad HD screens out there), and might be wondering whether a 720p resolution is not a critical flaw. The short answer is no - pixel density comes in at 319ppi, which translates into a fairly sharp picture. A little jagginess of pixels can be noticed when you read tiny fonts, but for common use and pretty much everything else, you won't be bothered by pixelization. On the flip side, a 720p display consumes less energy, which in turn allows for a longer battery longevity.
Color accuracy is way off on the Xperia Z3 Compact. Sony has gone purposefully with a colder, noticeably bluish display with color temperature reaching the whopping 10000K (while 6500K is the reference value, and everything above it is cold). Color balance in greyscale is noticeably skewed towards the blue across all brightness levels. Color purists have the option to adjust color balance with separate controls for red, green, and blue. With some fiddling (you'd need to add in a lot more red, and a bit more green to get to more balanced colors,
we tweaked it to the following values: red ~ 250, green ~ 190, blue ~ 0)
, you can get to the point where colors are not outrageously blue, but getting this right is no trivial task and requires either a trained eye, or a colorimeter.
Sony advertizes the TRILUMINOS technology in the Z3 Compact as delivering 30% wider coverage than the industry-standard sRGB color gamut. This, however, is a double-edged sword – as with older generation AMOLED screens, colors do look more eye-popping, but with this decision gone is any notion of color accuracy. More is not necessarily better when we speak about the color gamut. Not surprisingly, color targets are also way off. Disappointing.
Sony's X-Reality is also on board and the feature boosts contrasts in the default picture and video apps, making for even more eye-popping colors. Naturally, this worsens rather than fixing color accuracy issues - colors are even less accurate in this mode.
Our measurements show that the Z3 Compact screen brightness reaches around 450 nits. There's also 'Adapt' mode that would automatically adjust screen brightness. All in all, real-life experience shows that the screen is very readable even under direct sunlight, and that's great. Viewing angles are also excellent with little distortion to colors and brightness when you tilt it.
It's also worth mentioning that the screen features a 'Glove-on' mode that recognizes touch even when you operate it with your gloves on, but you first need to enable the feature in settings.
Display measurements and quality