The OnePlus X is now permanently invite-free
12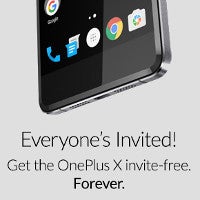 When OnePlus made its entry into the market with the
One
smartphone back in 2014, we were part of the cheering crowd. And how could we not? For $299, we were promised an up-to-date flagship with a pretty impressive hardware to dollar ratio.
There was one catch, however: you could only get one if you won an invite, and that required either luck or patience. Then the
OnePlus 2
and
OnePlus X
rolled out, following that same, highly controversial strategy, but each time the company shortened the period between actual release and the moment the devices become invite-free, as they should be. In fact, we just got word that, starting today, the OnePlus X will no longer require a special evite. You can pick it up for $249 over at OnePlus' online store (link in the source) right now.
In related news, select OnePlus 2 and OnePlus X cases are supposedly 20% off (we only see -15% on the site right now, though). On the other hand, OnePlus' slick Power Bank (10,000 mAh capacity) will see a price hike from $14.99 to $19.99, effective a week from now. That aside, it's looking like a good time to be a OnePlus fan.
Any takers?