Skip a beat! Waterproof Samsung Galaxy S5 unveiled with a heart rate sensor and Finger Scanner
86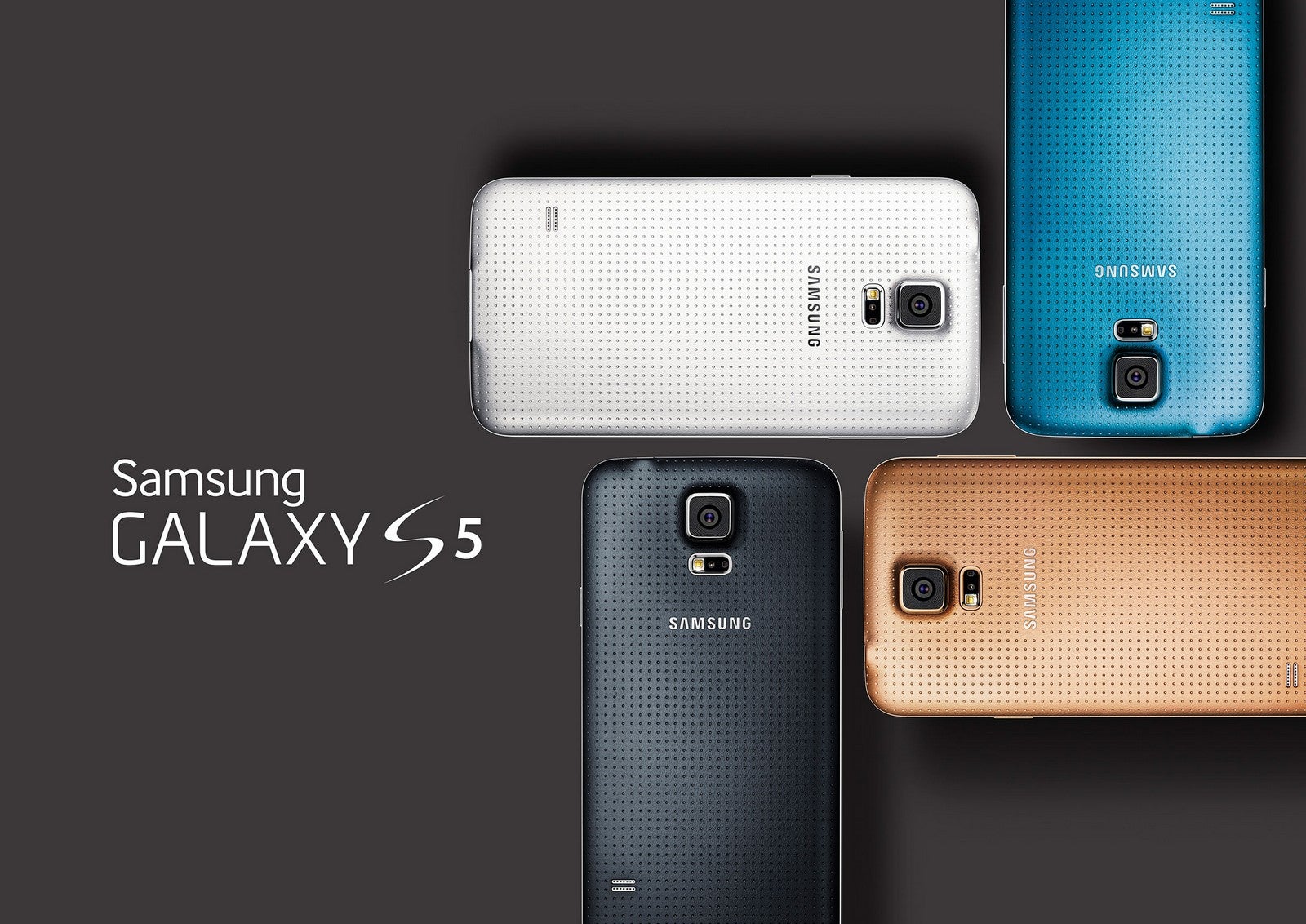 Samsung dropped a bombshell recently, announcing that its long-awaited
Galaxy S5
flagship will be unveiled at a
fairly low-key Unpacked event
, during the MWC expo in Barcelona. That was a radical departure from the glitzy dedicated presentations that the previous two editions of the Galaxy S line warranted, and maybe hints that Samsung has more in store for this year, than simply the S5.
Looking at the design and specs of the new Samsung finest, that might very well turn out to be true, as the handset's specifications don't differ much, and even give way to other newly-announced flagships, like the
Xperia Z2
. Instead, Samsung chose to set it apart with the new Finger Scanner, integrated in the home key, as well as the innovative S Health 3.0 features, like the built-in heartbeat sensor. Let's recap what the Koreans just announced.
Design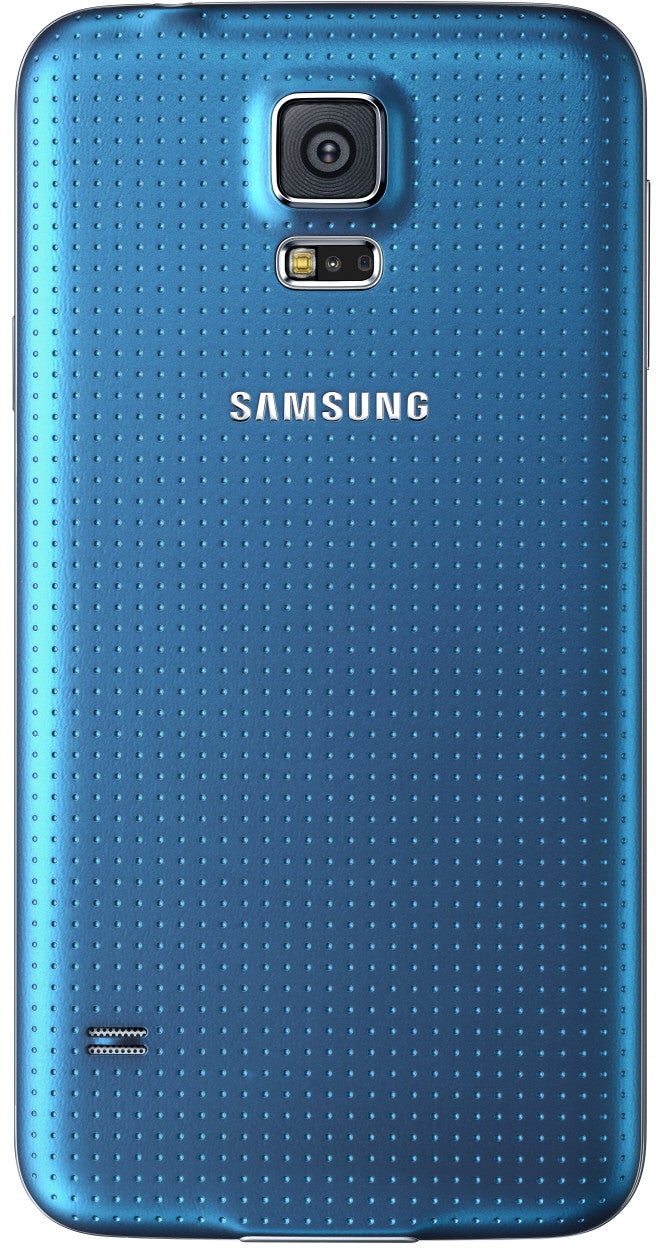 Samsung introduces a brand new design paradigm with the S5 - one that still uses plastic as the basis material, but flaunts a perforated rear pattern, that is quite different than the "stitched leather" looks of the
Note 3
, or the PRO tablet line of Samsung. The company calls this a "modern glam look," and we can't disagree with the "glam" part, especially when it comes to the new Copper Gold color option. Besides the Charcoal Black and Shimmery White, the Galaxy S5 will arrive with two extra colors at launch - Electric Blue, and the aforementioned Copper Gold that you can see in the pictures.
Despite almost the same screen size, The Galaxy S5 sports a more elongated body than the
S4
. At 142.0 x 72.5 x 8.1mm, against the 5.38 x 2.75 x 0.31 inches (136.6 x 69.8 x 7.9 mm) of the Galaxy S4, it is much taller and a tad wider. The embedded Finger Scanner might be the culprit here, requiring a thicker bottom bezel, just like the
Touch ID
solution on the
iPhone 5s
demands. At 145 grams, it is also heavier than the 130 gram Galaxy S4, so it bucks the "
thinner and lighter
" trend, that occurred between the
Galaxy S III
and the S4.
The phone, however, carries
IP67 rating
, just like the
Galaxy S4 Active
, which might have warranted a grander physique. This certification means that it is completely sealed from dust, and will remain functional even after you dunk it in up to three feet (1m) of water, for as long as half an hour. Last, but not least, the mentioned swipe
Finger Scanner
is embedded in the home key, and provides biometric authentication for unlocking the phone, or for secure mobile payments transactions.
Display
The S5 uses a 5.1" Super AMOLED display with 1080x1920 pixels of resolution, raking in a tad lower pixel density than its S4 predecessor, but still more than enough for each purpose you might throw at it. Those
rumors for a Quad HD display
didn't pan out, unless Samsung has other aces up its sleeve this year, between the S5 and the
Note 4
announcements.
Processor, memory and connectivity
The newly-coined quad-core
Snapdragon 801
(Qualcomm's MSM8974-AC chipset), clocked at 2.5 GHz, is what's powering the Galaxy S5. That's a bit higher than the 2.3 GHz MSM8974-AB processor in the Xperia Z2, but it is paired with 2 GB of RAM in the S5, unlike Sony's new flagship, that comes with 3 GB of RAM. Samsung will ship the S5 with 16 GB or 32 GB of internal memory, depending on the version, and also provides a microSD card slot for storage expansion.
The Snapdragon 801 processor is just a step below Qualcomm's fastest
Snapdragon 805
, which
won't be in devices before the summer
, so the S5 won't feel underpowered for the foreseeable future. In comparison with Snapdragon 800, the new 801 comes with 14% faster Krait 400 processor cores, 28% faster Adreno 330 graphics, and the whole reason for the 801 being - a 45% improvement in camera sensor processing speed.
Snapdragon 801 also introduces hardware support for dual SIM/dual Active devices, so perhaps a dual SIM version of the Galaxy S5 won't be far behind. The new chipset supports 150 Mbps LTE-A download speeds, and Samsung has put an innovative feature in the handset, called
Download Booster
, which speeds them up by combining the Wi-Fi/ac and LTE-Advanced connectivity. The phone also sports NFC radio, and an IR blaster, while wired connectivity is supplied via the USB 3.0 port at the bottom, covered with a protective flap. Of note is the Wi-Fi 2x2 Multiple Input Multiple Output (MIMO) setup on a phone, too.
Interface, functionality, S Health 3.0
Samsung plastered a new TouchWiz user interface on top of the latest Android 4.4.2 KitKat in the Galaxy S5. It introduces flatter, round icons, reworked menus, and a plethora of new features. There is a new
Ultra Power Saving Mode
, for instance, that makes the display show images in black and white, shutting down all processes and connections it deems unneccessary, which should make the phone last quite the time in that state.
An improved
S Health 3.0
app makes a cameo with the new Galaxy S5. Besides the usual pedometer, diet and exercise recordings, it is now also paired with something really interesting - a built-in
heart rate monitor
, located next to the LED flash. The sensor probably works on the same principle that the optical one on the
Gear 2
smartwatch does, and you can further customize the experience with an abundance of third party apps that take advantage of the combined health and fitness trackers on the phone.
Camera
A brand new, 16 MP camera sensor, is what Samsung used for the Galaxy S5. The company claims that the camera unit now provides the fastest, 0.3 seconds autofocus times - a feat made possible by the dedicated image signal processors in the Snapdragon 801 chipset. Besides 4K video recording at 30fps, the processor also allows for a few extra camera tricks, too. Selective Focus allows users to tap on objects they want to look sharp, and the rest of the background gets blurred, achieving a shallow depth of field (DOF) effect without special lenses. Sony bragged with the same thing for the Z2, so we'd imagine that the new image processing capabilities in Snapdragon 801 are what makes 4K video recording and Selective Focus possible, rather than some homebrew ISPs from Samsung or Sony. Samsung also touts that an advanced High Dynamic Range (HDR) photography will be in store with the Galaxy S5, that lets you "
reproduce natural light and color with striking intensity at any circumstances
".
Battery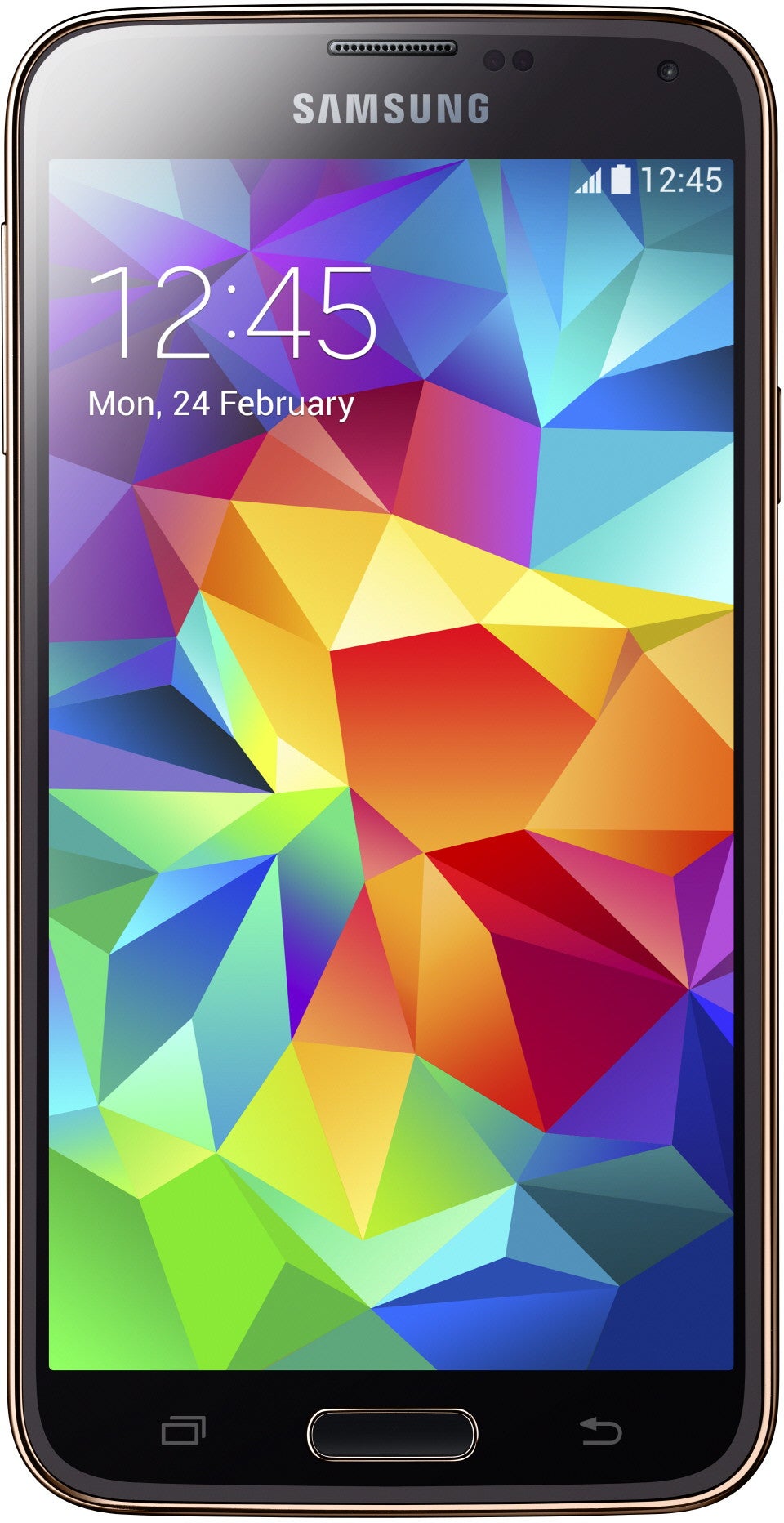 The 2800 mAh battery unit in the Galaxy S5 can be swapped out, and is rated for the respectable 21 hours of talk time on a charge, and 16 days of standby. It might not break records, but coupled with the new Ultra Power Saving Mode, might provide for a pretty decent battery life from the S5.
Release date and pricing
Samsung announced that the Galaxy S5 will be available globally on April 11th - not really shortly after the official unveiling. Pricing will inevitably vary from one region and carrier to another, and is likely to hit the expected flagship range of $200 or EUR on contract, and $600 or EUR without carrier shackles.
To recap the Galaxy S5 announcement - with the implemented biometric security, and the addition of a heart rate sensor, it seems geared towards aiding the average user, rather than the geeky crowd. The latter would likely scoff at the lack of specs that set the Galaxy S5 apart from the spring season competition, but most users that would consider it, will likely only notice the new looks, color options, unique heart rate sensor, and the increased camera resolution. What do you think?
Samsung unveils Galaxy S5 to focus on what matters most to consumers
The company's 5th generation Galaxy S redefines how technology innovation enhances our lives


Barcelona, Spain, February 24, 2014 - Samsung Electronics today announced the fifth generation of the Galaxy S series, the Galaxy S5, designed for what matters most to consumers. The new Galaxy S5 offers consumers a refined experience with innovation of essential features for day-to-day use.
"With the Galaxy S5, Samsung is going back to basics to focus on delivering the capabilities that matter most to our consumers," said JK Shin, President and Head of IT & Mobile Communications Division at Samsung. "Consumers are looking for mobile tools that inspire and support them as they improve their everyday lives. The Galaxy S5 represents an iconic design with essential and useful features to focus on delivering the ultimate smartphone on the market today through people inspired innovation."

The Galaxy S5 combines an advanced camera, the fast network connectivity, dedicated fitness tools and enhanced device protection features as consumers stay fit and connected in style.
Capture the moments that matter

Capturing and saving precious memories is one of the most important smartphone features today. The new Galaxy S5 offers superior camera functionality, featuring a 16 megapixel camera with an enhanced menu and user interface that allow consumers to effortlessly take, edit and share photos.
The Galaxy S5 offers the world's fastest autofocus speed up to 0.3 seconds and the advanced High Dynamic Range (HDR), reproduce natural light and color with striking intensity at any circumstances. Also new Selective Focus feature allows users to focus on a specific area of an object while simultaneously blurring out the background. With this capability, consumers no longer need a special lens kit to create a shallow depth of field (DOF) effect.

Tap into the fastest connections

The Galaxy S5 offers the most advanced LTE experience and Wi-Fi performance available today, ensuring blazing fast data speeds for unrivaled media consumption and productivity.

The Galaxy S5 supports the fifth generation Wi-Fi 802.11ac and 2X2 MIMO, and supporting the large number of LTE frequency with LTE Category 4 standard. For consumers seeking an even faster connection, the Galaxy S5 now features Download Booster, an innovative Wi-Fi technology for boosting data speed by bonding Wi-Fi and LTE simultaneously. No matter where a consumer is, the Galaxy S5 will help ensure they have the fastest available connection.

Be more fit and active

With the enhanced S Health 3.0, the new Galaxy S5 offers more tools to help people stay fit and well. It
provides a comprehensive personal fitness tracker to help users monitor and manage their behavior,
along with additional tools including a pedometer, diet and exercise records, and a new, built-in heart
rate monitor. Galaxy S5 users can further customize their experience with an enriched third party app
ecosystem and the ability to pair with next generation Gear products for real-time fitness coaching.
Express modern, glam look

The Galaxy S5 blends iconic Samsung design with modern trends to appeal to a range of consumer
tastes and interests. The Galaxy S5 features a perforated pattern on the back cover creating a modern
glam look. Its new sleek, contoured shape comes in an array of vivid colors, including charcoal Black,
shimmery White, electric Blue and copper Gold, to complement the style of the individual consumer.
Essential device protection

The Galaxy S5 is IP67 dust and water resistant. It also offers a Finger Scanner, providing a secure,
biometric screen locking feature and a seamless and safe mobile payment experience to consumers. The
Ultra Power Saving Mode turns the display to black and white, and shuts down all unnecessary features
to minimize the battery consumption.

The device will be available globally through Samsung's retail channels, e-commerce and carriers on April.
Full details and product images are available at www.samsungmobilepress.com


Samsung Galaxy S5 Product Specifications:

Network
LTE Cat.4 (150/50Mbps) Display
5.1" FHD Super AMOLED (1920 x 1080) AP
2.5GHz Quad core application processor OS
Android 4.4.2 (Kitkat) Camera
16MP (rear), 2.1MP (front) Video
UHD@30fps, HDR, video stabilization
Video Codec : H.263, H.264(AVC), MPEG4, VC-1, Sorenson Spark, MP43, WMV7, WMV8, VP8
Video Format: MP4, M4V, 3GP, 3G2, WMV, ASF, AVI, FLV, MKV, WEBM Audio
Audio Codec : MP3, AMR-NB/WB, AAC/ AAC+/ eAAC+, WMA, Vorbis, FLAC
Audio Format: MP3, M4A, 3GA, AAC, OGG, OGA, WAV, WMA, AMR, AWB, FLAC, MID, MIDI, XMF, MXMF, IMY, RTTTL, RTX, OTA Camera Features
HDR (Rich tone), Selective Focus, Virtual Tour Shot, Shot&More Additional Features
IP67 Dust and water Resistant
Ultra Power Saving Mode
Download Booster
S Health 3.0
Quick Connect
Private Mode
Kids Mode Google Mobile Services
Chrome, Drive, Photos, Gmail, Google, Google+, Google Settings, Hangouts, Maps, Play Books, Play Games, Play Newsstand, Play Movie & TV, Play Music, Play Store, Voice Search, YouTube Connectivity
WiFi: 802.11 a/b/g/n/ac HT80, MIMO(2x2)
Bluetooth®: 4.0 BLE / ANT+
USB: USB 3.0
NFC
IR Remote Sensor
Accelerometer, gyro, proximity, compass, barometer, Hall, RGB ambient light, Gesture(IR), Finger Scanner, Heart rate sensor Memory
RAM: 2GB
Internal Memory: 16/32GB
microSD slot upto 64MB Dimension
142.0 x 72.5 x 8.1mm, 145g Battery
2800mAh
Standby time: 390 hrs / Talk time: 21 hrs

Photos and further information can be found at www.samsungmobilepress.com.

* All functionality, features, specifications and other product information provided in this document including, but not limited to, the benefits, design, pricing, components, performance, availability, and capabilities of the product are subject to change without notice or obligation.
* Android, Google, Chrome, Drive, Photos, Gmail, Google, Google+, Google Settings, Hangouts, Maps, Play Books, Play Games, Play Newsstand, Play Movie & TV, Play Music, Play Store, Voice Search, YouTube are trademarks of Google Inc.
About Samsung Electronics Co., Ltd.

Samsung Electronics Co., Ltd. is a global leader in technology, opening new possibilities for people everywhere. Through relentless innovation and discovery, we are transforming the worlds of TVs, smartphones, tablets, PCs, cameras, home appliances, printers, LTE systems, medical devices, semiconductors and LED solutions. We employ 286,000 people across 80 countries with annual sales of US$216.7 billion. To discover more, please visit www.samsung.com.
Recommended Stories