Tick-tock on the clock: Samsung Gear 2 and Gear 2 Neo roll onto the scene
61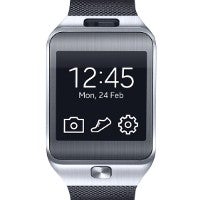 So, now that Samsung has secured some early lead in the smartwatch space with the Galaxy Gear, it's now willing to cement and expand its presence with not just one, but two new smartwatch models. Ladies and gents (probably just gents), please present your wrists, because the
Samsung Gear
2 and Gear 2 Neo are here to enhance your mobile lifestyle.
Interestingly, the Gear 2 Neo isn't some kind of a cheaper version of the Gear 2. Well, it might be cheaper, but overall, it's simply designed to be a lighter, camera-free version of the smartwatch. Actually, there aren't that many differences between the two, aside from the missing camera on the Gear Neo, as well as some slightly differences in the dimensions and color options.
The Gear 2 series is sticking with an identically-sized display of 1.63" and a resolution of 320x320 pixels, which seems more than enough for our current understandings of smartwatches. The processor inside both new devices is going to be 1 GHz dual-core CPU of unknown make - hopefully, it's going to deliver good performance (and acceptable battery life).
As we said, the major difference between the two is that the Gear 2 Neo lacks a camera. Meanwhile, the more versatile Gear 2 is going to have a 2MP camera. However, it's no longer going to be built into the strap; instead, it will be a part of the main watch body.
You'll be able to purchase the Samsung Gear 2 and Gear 2 Neo starting from April, but it looks like Samsung is uncomfortable with letting us know the prices right now. Oh well, what can we do but hope that they will be priced a bit more reasonably than the original Gear? In terms of color options, the Gear 2 will be coming in Charcoal Black, Gold Brown and Wild Orange, while the Gear 2 Neo will come in Charcoal Black, Mocha Grey and Wild Orange.
One more thing: Samsung has finally... finally made these smartwatches water-resistant! In fact, they are both IP67 certified! So, are you guys digging these new Gear smartwatches?