Samsung to launch a Galaxy Note 4 with bent display this year, foldable Note 5 in 2015
19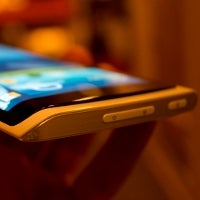 Samsung will be releasing a phone with "bent" display later this year, Korean media reports, and it will be part of the Galaxy line still. The company showcased such a prototype when it was
introducing its YOUM brand of flexible mobile display panels
at last year's CES. The display was rolled over the edges, like you see in the thumb image, showing separate notifications and info tickers on the side of the phone.
"
The bent smartphones will be rolled out as a Galaxy variant with a few million units at the end of this year, initially taking aim at the niche market
," claims Song Jong-ho, an analyst with the Korean KDB Daewoo Securities. Samsung is reportedly also ramping up its A3 production line for flexible OLEDs: "T
he initial investment [in the A3 line] will stand at around 2 trillion won ($1.9 billion)
," adds another analyst, Kim Dong-won, from Hyundai Securities.
That's a pretty significant sum, and shows that Samsung is rather serious when it comes to its flexible displays future. The ultimate goal, say the analysts, is to produce a truly
foldable phone
, and this one is evidently set for the second half of next year. Samsung mastered the production of foldable displays, so that the
picture and quality of the panel don't deteriorate at the place of folding
, but flexible batteries are where it is putting the effort towards now.
"
Samsung's battery segment is still way behind compared to its progress in display technology
," has said an anonymous insider from the electronics giant. That's apparently the reason Samsung will give it a try with the bent display phone this year, and then work hard towards the foldable handset for next year. "
The bent device is the first step toward testing the market and gauging how it would react to its foldable smartphones that are to be unveiled in the second half of next year
," confirmed Song, adding something very interesting.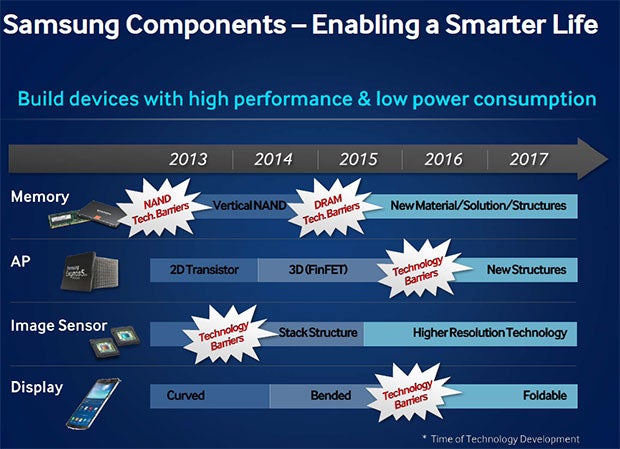 Samsung Analyst Day presentation hints at foldable display gear on tap for 2015
The analyst actually claims that the foldable phone, which was
promised by CEO Kwon Oh-hyun at Analyst Day last year
, will be Samsung's next flagship. If this pans out, that means the Note 5 might be a very radical departure from Samsung's typical S Pen-wielding phablets. We say Note 5, as flagship for "the second half of next year" would mean the 2015 Note, rather than the Galaxy S6, given that the
S5
will be announced in two short weeks from now.
In any case, the foldable phone application would be perfect for a phablet, which can be compact when folded, while
becoming one larger screen
for doodling, browsing or watching videos, when the situation calls for it. Sounds like a sci-fi project, but the technology for the panel is actually out there, and we cross fingers that Samsung furthers its
flexible batteries development
quicker. As for the chassis and other components? Well, that will be Samsung's engineers surprising us, though we are certain there will be plenty of foldable leaks in the meantime.