Qualcomm announces Snapdragon 801 - 45% faster image processing, in devices by April
12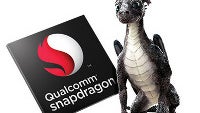 Qualcomm just announced its new powerful chipset, dubbed Snapdragon 801, which seems to occupy a place between last year's finest - Snapdragon 800 - and the yet unreleased
Snapdragon 805
juggernaut.
In comparison with the Snapdragon 800, the new 801 comes with 14% faster Krait 400 processor cores, 28% faster Adreno 330 graphics, and the whole reason for the 801 being - a 45% improvement in camera sensor processing speed. Qualcomm made it pin-for-pin and software compatible with Snapdragon 800, so changing to the 801 is just a matter of swapping out the old, and plugging the new. This was made with the goal to have Snapdragon 801 in devices "before the end of March 2014," meaning that we might see it in some of the gear announced at the MWC expo.
The image processing prowess is made deliberately for phones with higher-resolution sensors, which takes their sweet time to process photos, like the 41 MP monster on the Lumia 1020, for instance. Qualcomm also integrated multi-band 4G LTE Cat4 modem along with WiFi 802.11ac support. Snapdragon 801 is gentler on the battery, too, as Qualcomm says it can selectively throttle down the cores parts it's not using.
Last but not least, dual SIM/dual Active (DSDA) devices are not only an afterthought with Snapdragon 801, but the ability is now hardware integrated, and a matter of simple decision for the manufacturer to make.
Recommended Stories