Samsung's Kid Store for Samsung Galaxy S5 won't let junior wipe out your bank account
9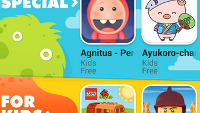 The Kids Mode that we earlier told you about for the
Samsung Galaxy S5,
will include apps allowing kids to draw, record their voices, snap pictures and sing karaoke
. But there also is a special Kids Store that gives the young ones a chance to load more fun and games on a Galaxy S5. One thing that Samsung wanted to prevent was situations where junior would figure out a password and start making in-app purchasers that wipe out the family bank account.
To prevent the sort of
in-app purchasing that has seen Apple get into trouble
, the Kids Store will include some paid apps without any in-app options. This way, Mom and Dad know just exactly how much they are spending to pacify junior for a few hours. A special PIN number will need to be punched in when purchasing a paid app from the Kids Store. The apps will be listed in categories including Special, Learning, Play and Story. The PIN number also controls what phone numbers the kids will be able to call.
Kids Mode is for those 10 years of age or younger, and those who have seen it say that it is colorful and cartoonish, which should help it do the job that it is intended to do. That is, to keep kids away from things on the Samsung Galaxy S5 that they shouldn't be messing with, whether accidentally or on purpose.
source:
SamMobile
via
BGR