Samsung's J.K. Shin says without Samsung patents, there is no Apple iPhone; no deal with Apple is coming
56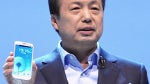 "The truth never lies. Without Samsung-owned wireless patents, it's impossible for the Cupertino-based Apple to produce its handsets. As you know, Samsung is very strong in terms of portfolios of wireless patents.-J.K. Shin, CEO, Samsung
Wednesday's cease fire in the Gaza Strip is proof that it is easier to get peace in the Middle East than peace between Apple and Samsung. And for those who were hoping that Samsung would
follow in HTC's footsteps and work out a licensing deal with Apple
, don't hold your breath. The executive who heads up the Korean firm's mobile division, J.K. Shin, told reporters in Seoul on Wednesday that without Samsung's wireless patents, Apple would
not be able to produce
its iconic smartphone.
Shin made the comments after the ITC decided to review an earlier ruling that Apple didn't infringe on four Samsung patents in the manufacturing of the
Apple iPhone
and
Apple iPad
. With a decision due in January, there is a lot riding on the ITC's decision. A ruling against Apple would prevent the Cupertino based firm from selling the Apple iPhone and the Apple iPad in the U.S.
Shin told reporters
like he did last week,
that Samsung is
not negotiating with Apple
like HTC did. The resulting deal between Taiwan based HTC and Apple means that each side will get to use each other's patents for ten years while
HTC will be making undisclosed payments to Apple
. All litigation between the two firms will be dropped. There is some talk that Apple and Google will agree to a similar deal which Apple hopes would put more attention on its battles with Samsung.
Though later denied via an official tweet, Shin did hint that Samsung would introduce a new Galaxy S phone at the CES show in Las Vegas in January. Speculation is that the
Samsung Galaxy S IV will be introduced at CES with a 5 inch OLED screen
offering a spectacular 441ppi pixel density.
source:
KoreaTimes
via
BGR