Apple vs Samsung lawsuit has come full circle
24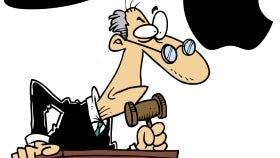 Apple and Samsung have been battling each other in court for over five years now. The case has gone through so many court rooms that we lost track already. Now, the battleground for the two titans moves yet again, back to where it all started.
The Supreme Court recently ruled in Samsung's favor, saying that damages in design patent cases should be based on individual components, and not entire devices. Therefore, in the Apple vs Samsung case, damages can't be calculated based on all of Samsung's sales of said handsets, but only on a portion of them.
And after this ruling, the US Court of Appeals for the Federal Circuit remanded the lawsuit back to its venue of origin – the Northern District Court of California – to settle the matter, which could result in a whole new damages trial.
"While Apple requests continued panel review, Samsung requests that we remand to the district court for a new trial on damages. […] Instead, we remand this case to the district court for further proceedings, which may or may not include a new damages trial,"
the CAFC said.
"Trial courts are well suited for this type of analysis, so it makes sense that the Federal Circuit – rather than create a procedure from whole-cloth – would like to see how the trial court approaches the problem,"
said Case Collard, a partner at international law firm Dorsey & Whitney.
"Court watchers will now turn their attention to Judge Koh to see if she decides to hold a new trial on damages in light of these rulings."
The CAFC notes that the district court "should consider the parties' arguments" to determine how to proceed.
via
AppleInsider