Judge Koh pleas for 'global peace' between Apple and Samsung for the sake of consumers, incites laughter
34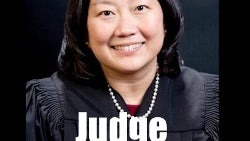 The Apple Samsung legal battle has turned into a neverending saga to the point that even the possibility of the two companies settling for 'global peace' seems laughable. At least that was the reaction of the crowd at the latest hearings when Judge Lucy Koh suggested the two finally agree on something and put the patent battle to an end.
After getting a few laughs, Judge Koh had to repeat:
"I'm not joking... it would be good for consumers and good for the industry."

Would this happen? The lawyers would definitely not be happy, but interestingly enough Samsung's head lawyer admitted the Korean company was
"willing to talk."
Apple? Not so neighbourly.
Apple thinks that the over a billion sum it was awarded in a judgment was merely a "slap on the wrist" for Samsung, and does not to stop there.
Apple once again slammed Samsung's designs, saying they are purposefully on the edge to get away from legal trouble. Samsung of course was quick to strike back by accusing Apple of "competing through the courts rather than the marketplace."
And it was all back to the usual kid fighting, with no visible effect from Judge Koh's appeal for peace. Not that we are surprised. What do you think, is there any possibility of Samsung and Apple settling?
source:
Financial Times
via
Engadget