More rumored specs about the Samsung Galaxy S IV emerge
99+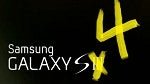 The Samsung Galaxy S III is an outstanding handset, still showing great sales, and is a fully capable device by just about any measure. By Samsung's device life-cycle though, it will be long in the tooth by the new year.
Enter the Samsung Galaxy S IV (or S4). Rumors about such a device have been in the ether, and today we learned that
it will likely have a 4.99-inch Super AMOLED display
. A Korean site is reporting that in addition to the fully HD 1920x1080 screen, we can expect to see it on display at CES 2013.
Other sources are confirming that the new S4 will have a 13 megapixel camera, a quad-core 2GHz Exynos 5450 processor with an 8-core GPU, and 64GB of storage. Can you say power? The memory chip is said to be thinner, thus contributing to a reduction in the thickness of the overall phone as well.
If expectations are met and we get to see this new device at CES 2013 (or hopefully sooner if it leaks), then we can expect to see a release of the new Galaxy S4 to the masses sometime in the second quarter, about one year after the
Galaxy S III
made its debut.
What do you think of those exciting specs?
sources:
Asiae
(Korean) via
3G.co.uk
and
The Christian Post