Samsung trademarks the Galaxy X: could this be the foldable phone?
11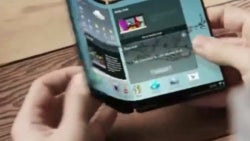 We've been hearing that Samsung is working on a foldable phone or tablet for a couple of years now. The company has even presented the concept in
some videos
, suggesting how it might work. We've seen numerous patents of various ideas on how to build a foldable phone, and the names
Galaxy Wing
and
Galaxy X
have been thrown around a lot, suggesting that's how the first-ever paper-like phone would be named.
Well, Samsung has just filed for trademark over at KIPRIS (Korea Intellectual Property Rights Information Service) for the Galaxy X brand. This comes just months after we heard that the foldable phone is still on track, despite the
unfortunate fate
of the
Note 7
, and after some rumors suggested that we might see the first-gen product come
at the end of 2017
, or the
first half of 2018
.
So, it appears that the Galaxy X name might just be the one assigned to Sammy's first papyrus phone. On the scale of 1 to "take my money now", how excited are you for this?