Samsung Display concepts and videos show a future where flexible, foldable, transparent displays are everywhere
44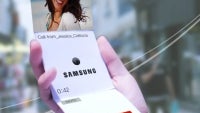 Austrian website oled.at unveiled some weeks-old concept videos and images from Samsung Display, previously shown behind closed doors on Samsung's annual Analyst Day (November 6) in Seoul. The materials demonstrate futuristic concepts for application of the now familiar flexible OLED display technology in everyday life, which we've become used to seeing only in sci-fi movies like Minority Report.
In the future which Samsung's display arm envisions, practically every solid surface can become a screen, and every display can be bent and folded. Thanks to this technology, not only bezels, but gadgets' bodies themselves have become a thing of the past. Highlights from the trailer include: a foldable display alarm clock; a smart kitchen table; a car window that not only provides a view outside, but also has touch-controls for raising or lowering the glass as well as adjustments for the air-conditioning; a transparent, digital blackboard; and many more. At this point, such concepts seem mind-bogglingly ambitious, but display technology is a huge area of research and investment for Samsung. Let's hope we won't become too old before we can see some of this technology in action.
Samsung's next concept, called Magic Phone, gets even crazier. The Galaxy Gear smart-watch has a small attachment on its wristband, which houses a microphone and a roll-able OLED display. The screen can be pulled and extended out of this attachment, turning the smart-watch into a full-fledged Galaxy S smartphone. It literally looks like a trick that an illusionist would pull, hence the name Magic Phone.

Next comes the Samsung Foldiplay. When switched off, it's nothing but a transparent sheet of plastic. Turn it on, and it becomes a screen, which you can fold into a smartphone or tablet. The Foldiplay seems purely conceptual - we can't possibly imagine Samsung selling a piece of technology that literally looks like plastic book binding. Not even in the 22th century! However, perhaps thin and flexible display technology will become so advanced and affordable, that someday it will completely replace the paper used in print media.
Finally, Samsung has concocted an original design for a smartphone charger - the Healing Charger. It has transparent displays on its sides, which can show a simulated aquarium, information about the weather or something else, as you charge your handset inside it. Such a gizmo not only seems useful, but it can also provide beautiful decoration.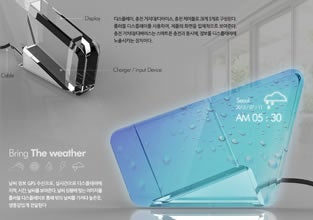 The question you are probably asking yourself right now is "is any of this possible?". We're asking ourselves the same, but its no secret that most of the foundation for such futuristic technology is already laid out. Albeit in a primitive state, compared to what we see in the videos and images, flexible displays, batteries and other crucial components are being worked on and improved as we speak, and computer chips are becoming increasingly smaller and powerful. While it will take a long while before Samsung's display-centric future dawns upon us, this vision isn't as maniacal as it now seems.
source:
oled.at
via
Android Authority