Over 96% of recalled Galaxy Note 7 units have been returned to Samsung
27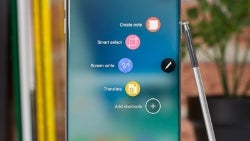 The faulty Samsung Galaxy Note 7 is almost eradicated from public availability, about five months after its worldwide recall began. Samsung announced that over 96% of Galaxy Note 7 phones in the wild have been returned. On these grounds, the U.S. Department of Transportation decided to remove the requirement for airlines to make specific pre-boarding notifications related to dangers of on-board fires sparked by the defective phablet. Last October, the FAA banned the presence of Note 7 phones on any aircraft as the result of a unit exploding on a Southwest Airlines flight.
Prior to issuing a software update in December that disabled Note 7 units from charging, Samsung had received around 85% of the recalled devices. It looks like the rather draconian measure proved a successful decision, as the return rate climbed to 96% in the weeks after.
Samsung is expected to release the results of its investigation into the Galaxy Note 7 this month. The company is still expected to continue the Note series by releasing a successor to the Note 7 in the second half of 2017.
The fate of the remaining 4% of Note 7 devices isn't clear. Hopefully, we won't be hearing about random accidents caused by stray units in the months or years ahead.
ALSO READ