Samsung Galaxy Tab to be first Android device to feature WSJ app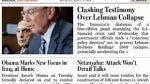 Android users have many Wall Street based apps that can be installed. But the most famous source of news and market information, The Wall Street Journal, has been conspicuous by its absence in the Android Market. But now, Dow Jones has found the perfect Android outlet for the paper-the Samsung Galaxy Tab.
For $3.99 per week, close to the cost of the physical paper, each business day the app will download the Digital Edition of the WSJ on the tablet at about the same time that the physical edition is being delivered to readers. Content will be the same as in the print edition with the ability for you to swipe from section to section or article to article. Are you a big fan of "Heard on the Street? The app will make sure that you have access to the column at the same time as those who get the physical WSJ and head off to work with ink-stained fingers.
Daniel Bernard, chief product officer of the Wall Street Journal's Digital Network said, "The WSJ Tablet Edition for Android continues to blend the best of print and online with an experience that showcases our strength of innovation and original delivery of content."
source:
TheNextWeb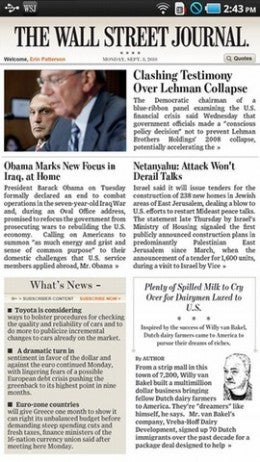 The Samsung Galaxy Tab is the only Android device where you will find the WSJ's Digital Edition