Samsung Galaxy S7 vs Galaxy S6 vs iPhone 6s: three-way specs comparison
5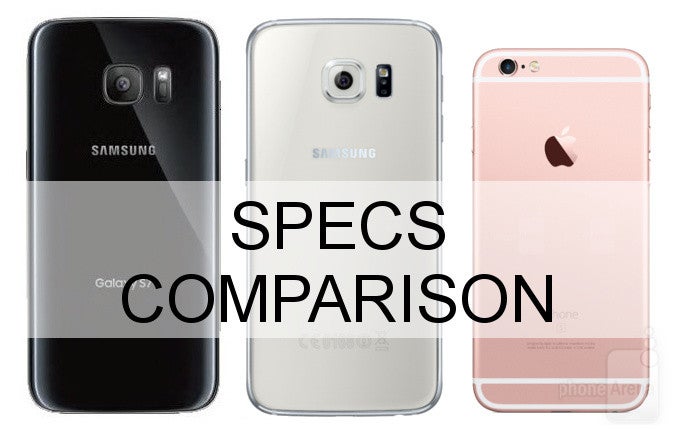 The hot new Android flagship in town is, undoubtedly, the Galaxy S7, a phone that sets the bar high for 2016. It seems to have it all - exquisite design, saucy specs, and promising camera, which are all requirements for having a bestseller.
Don't believe us? Well, just take a look at last year's
Galaxy S6
specs sheet and you will notice in no time that the Galaxy S7 is a big leap forward on all fronts.
What about the other hot thing on the block, the
Apple iPhone 6s
? Well, comparing specs between an iPhone and an Android is a bit ridiculous as these are not that comparable, but still, we've thrown one for a good measure.
Super AMOLED
IPS LCD
Super AMOLED
500 cd/m2 (nit)
855 cd/m2 (nit)
Scratch-resistant glass, Ambient light sensor, Proximity sensor
Pressure-sensitive, Oleophobic coating, Scratch-resistant glass, Ambient light sensor, Proximity sensor
Scratch-resistant glass, Ambient light sensor, Proximity sensor
Samsung Exynos 7 Octa 7420 (14 nm)
Apple A9 APL0898
Qualcomm Snapdragon 820 MSM8996 (14 nm)
Octa-core, 2100 MHz, ARM Cortex-A57 and ARM Cortex-A53, 64-bit
Dual-core, 1840 MHz, Twister, 64-bit
Quad-core, 2200 MHz, Kryo, 64-bit
Mali-T760 MP8
PowerVR GT7600
Adreno 530
128GB, not expandable
128GB, not expandable
32GB
Android (7.0 Nougat, 6.0 Marshmallow, 5.1 Lollipop, 5.0 Lollipop), Samsung TouchWiz UI
iOS (15.x, 14.x, 13.x, 12.x, 11.x, 10.x, 9.x)
Android (8.0 Oreo, 7.0 Nougat, 6.0 Marshmallow), Samsung TouchWiz UI
Fast charging
Qualcomm Quick Charge 2.0
10.0 days (240 hours)
the

average

is 20 days (472 h)
23.00 hours
the

average

is 19 h (1110 min)
14.00 hours
the

average

is 19 h (1110 min)
28.00 hours
the

average

is 19 h (1110 min)
3G: 10 hours; LTE: 12 hours; Wi-Fi: 12 hours
3G: 10 hours; LTE: 10 hours; Wi-Fi: 11 hours
3G: 11 hours; LTE: 13 hours; Wi-Fi: 14 hours
57.00 hours
50.00 hours
55.00 hours
13.00 hours
11.00 hours
16.00 hours
Single camera
Single camera
Single camera
16 MP (OIS, Autofocus, BSI sensor)
12 MP (Sapphire crystal lens cover, PDAF, BSI sensor)
Aperture size: F1.9; Focal length: 28 mm; Sensor size: 1/2.6"; Pixel size: 1.12 μm
Aperture size: F2.2; Focal length: 29 mm; Sensor size: 1/3"; Pixel size: 1.22 μm
Aperture size: F1.7; Focal length: 26 mm; Sensor size: 1/2.5"; Pixel size: 1.4 μm
3840x2160 (4K UHD) (30 fps), 1920x1080 (Full HD) (60 fps), 1280x720 (HD) (120 fps)
3840x2160 (4K UHD) (30 fps), 1920x1080 (Full HD) (120 fps), 1280x720 (HD) (240 fps)
3840x2160 (4K UHD) (30 fps), 1920x1080 (Full HD) (60 fps), 1280x720 (HD) (240 fps)
OIS, HDR, Continuous autofocus, Picture-taking during video recording, Video light, Video calling
Time-lapse video, Continuous autofocus, EIS, Video calling, Video sharing
HDR, Picture-taking during video recording, Video calling, Video sharing
5.65 x 2.78 x 0.27 inches (143.4 x 70.5 x 6.8 mm)
5.44 x 2.64 x 0.28 inches (138.3 x 67.1 x 7.1 mm)
5.61 x 2.74 x 0.31 inches (142.4 x 69.6 x 7.9 mm)
4.87 oz (138.0 g)
the

average

is 6.5 oz (184 g)
5.04 oz (143.0 g)
the

average

is 6.5 oz (184 g)
5.36 oz (152.0 g)
the

average

is 6.5 oz (184 g)
Back: Glass; Frame: Aluminum
Back: Aluminum
Back: Glass (Corning Gorilla Glass 4); Frame: Aluminum
Fingerprint (touch)
Fingerprint (touch)
Fingerprint (touch)
Notification light, Touch sensitive control keys
Touch sensitive control keys