S6 edge Plus tipped to be 'Note 5 without a stylus,' both pegged for August 13 unveiling
13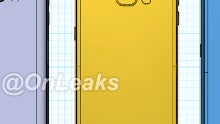 The grand
Note 5
unveiling has been indeed pulled a few weeks forward, it seems, as yet another Korean source now confirms that the phablet is expected to arrive in August, alongside the "Note 5 without a stylus" - Samsung's
Galaxy S6 edge Plus
.
In fact, the tangible specs differences between the two are very few, if we count out the S Pen Stylus, of course. One of these is be the amount of RAM -
4 GB for the Note 5
, and 3 GB for the S6 edge Plus, as well as the battery capacity, which on the
Note 5 is said to be 4100mAh
, versus 3000 mAh on the S6 edge Plus, though this one sounds rather fishy. The rest will stay the same, tips the source - a 5.7" Quad HD Super AMOLED display on both, Exynos 7422/7420, and a 16 MP camera with optical image stabilization.
So, when exactly are these two planning to show their faces for the world to see? The source tips August 13 as the day for the grand unveiling in New York, while before we heard that
it will be August 12th
. Close enough, though, so something unorthodox might indeed happen this hot summer, and it seems destined to occur just three weeks from now. The only thing left to wait for now is the actual official Samsung invitation, which should be arriving any day now, if the Note 5 and S6 edge Plus are indeed arriving mid-August