Seemingly confirmed: Samsung Galaxy Note 5 will come with 4GB of LPDDR4 RAM
76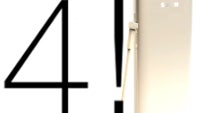 The
Samsung Galaxy Note 5
is coming. While we're normally expecting it to show up at IFA in early September, numerous sources claim that it could be announced a bit earlier in August and later showcased at the mobile expo, which sounds a bit believable given that Samsung is trying hard to steal the spotlights from Apple and all other rivals.
Given that we are quite close to the potential announcement of the next great Samsung phablet,
elaborate rumors and leaked hardware specs
are already flooding us, creating a very good image of what the Galaxy Note 5 would most probably be like. We already know what chipset is the most plausible candidate to power the phablet (an octa-core
64-bit Exynos 7422 SoC
); we also seem to know that it will feature the same blazing-fast storage that debuted with the Galaxy S6/S6 edge; the display size and resolution -- a 5.7-inch Super AMOLED Quad HD one -- are also seemingly known.
Today, one of the anticipated features got seemingly confirmed - SamMobile is sure that the Note 5 will come with 4 gigs of LPDDR4 RAM on board. We already suspected that Samsung will go all-in in this department, given that the 4 gig RAM frontier has been already crossed by a handful of devices.
As multi-tasking has always been one of the staples of the Note phablet line, we are optimistic that with 4GB of LPDDR4 on board the Note 5 will be another multi-tasking champion. Hopefully.
source:
SamMobile