Samsung Galaxy S6 edge+ Review
70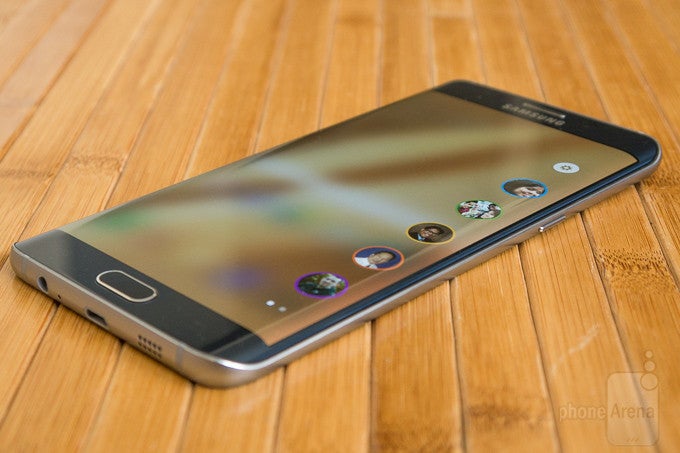 Introduction
When the
Samsung Galaxy S6 edge
was announced alongside the
S6
earlier in the year, there was no arguing about Samsung's decision to push forward with curved screens. Between the two of them, we found the
S6 edge
more fascinating, thanks to the undeniably exotic aesthetics of its dual-curved display. Generating such attention, it's no wonder why Samsung is on the fast track to give consumers just a little bit more variety with one of its newest offerings.
From what we've seen so far, big phones are big business for the companies making them. Knowing that, it's no surprise at all to know that the
Samsung Galaxy S6 edge+
includes everything we know and love about the existing S6 edge, but takes things to a bigger scale – and by that, we mean a phone with a 5.7-inch display. Now, some might think it's merely a larger edition of the S6 edge, but that's not exactly the case, as the S6 edge+ is accompanied by a number of its own unique features to differentiate itself. While its addition to Sammy's already diversified lineup is appreciated, it's actually trying to make a name for itself in the phablet world.
Or is it just Samsung's way of trying to capitalize on what's hot and trending at the moment?
The package contains:
Samsung Galaxy S6 edge+
microUSB cable
Wall charger
Stereo headphones
SIM removal tool
Quick start guide
Warranty card
Design
Aside from the larger footprint, it's the same premium design we know and love. It's still gorgeous, but we're not as enthused because we've seen it before.
One look at the Galaxy S6 edge+, it's hard to deny the obvious assertions about its design right from the onset – it's just a bigger-sized version of the Galaxy S6 edge. That's the undeniable reality, so in a way, it doesn't achieve the same level of intrigue that we first experienced with its smaller sibling. Don't get us wrong, it's still an attractive phone paired with premium materials to accentuate the stylish aesthetics brought on by its dual-curved display. The metal and glass combination, much like other high-end offerings from Sammy's camp, makes it one of the best-looking phones around right now!
In terms of size, it's clearly more of a handful to use than the S6 edge, but that's the expectancy for something categorized as a phablet. Comparing it to Sammy's other notable phablet, the
Note5
, the S6 edge+ is technically longer, at 6.08-inches, but also narrower, skinnier, and lighter. Interestingly, though, it's not quite as sharp around the edges where its metal trim bezel is skinnier. And of course, we can't forget about the mesmerizing show produced by its design as light bounces off the glass surfaces to produce a shimmering effect at certain angles.
For all of its aesthetic acclaims, it's still a finger print magnet, so its pristine looks can quickly be overpowered by smudgy prints on its glass surfaces. Even though it's still largely an attractive looking thing in the space, we're less enthused this time around with the design, since it merely replicates the design language of its sibling. On the flip side, for those who've never seen the S6 edge, this will certainly draw attention and significant admiration.
Nearly everything found on the S6 edge is present here again with the S6 edge+, so that includes the handy fingerprint sensor, heart rate sensor, rapid charging microUSB 2.0 port, and built-in wireless charging. The placements of its ports and buttons are also unchanged here. However, there's one thing missing from its arsenal that's available with the Galaxy S6 edge – that's the IR blaster on its top edge. Most folks might overlook this decision, but we feel that it's a bit unsettling considering that it's something they were able to squeeze into the crammed confines of the Galaxy S6 edge.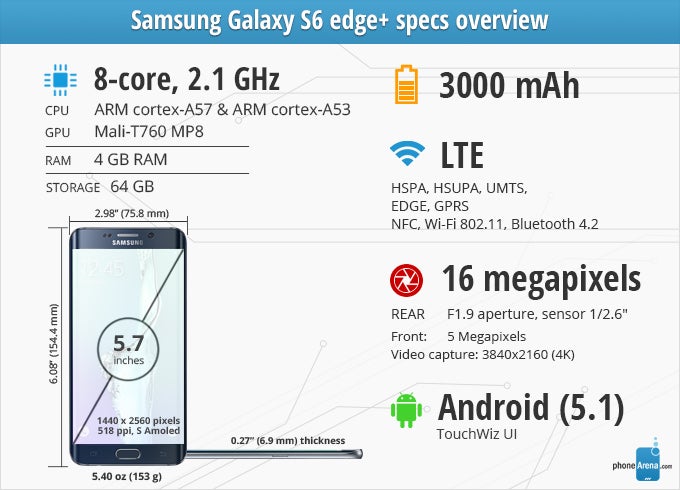 Display
Bigger than before, we have more real-estate to work with this time around, but the dual-curve edges once again add to the aesthetics.
Naturally, its gorgeous-looking design is primarily attributed to the curved 5.7-inch 1440 x 2560 (Quad-HD) Super AMOLED display fashioned onto it, which is a few steps up in size from the 5.1-incher found with the Galaxy S6 edge. Technically speaking, its pixel density is lower at 518 ppi, but regardless, it's still incredibly sharp and detailed. It's a visual feast for the eye to see, that's certain! And of course, pixel density with the S6 edge+ is equal to that of the Note5, which has a panel of the same size and resolution.
As we've realized, Samsung has nearly perfected the art of producing perfectly calibrated screens – and it continues to show here with the Galaxy S6 edge+. Even though there are subtle anomalies with its color reproduction in the sRGB color spectrum over what's found with the Note 5 and S6 edge, it's still largely very accurate in reproducing true-to-life colors. Better yet, its color temperature of ~6700K is pretty close to the 6500K reference point, so it's a panel that appears very neutral in its color tone... as long as you stick with the 'Basic' screen mode. As always, there are a few other modes, which mostly pump things up to deliver colors that tend to be perceived as punchy and vivid, but also artificial.
In terms of visibility, its 502-nit luminance is less than the Galaxy S6 edge's achievement of 553 nits, but it's still pretty visible outdoors – even when it's looked at in direct sunlight. It also appears to be superior than the Note5's display, which peaks out at 470 nits of brightness. Typical of AMOLED technology, the screen delivers outstanding viewing angles as far as retaining brightness and contrast goes, but on the downside, colors exhibit dramatic shifts in their quality as we turn the screen even slightly. Meanwhile, thought, we continue to appreciate the deep black levels of this AMOLED display, which helps things on screen appear that much livelier and contrasty. All told, everything about the display is expected.
Going beyond the specs and objective benchmarks, the dual-curved edges of the display are what makes it unique-looking and different in the space. The curve is pretty much unchanged from the S6 edge, so it's subtle and doesn't slope as much as the one found on last year's Galaxy Note Edge. Indeed, it's accompanied with certain features that aren't at the disposal of other displays, giving it some unique features against the competition, but the curved edges are still there primarily for the slick aesthetics. We'll explain their new features a bit later in the interface section.
Display measurements and quality