Quad-core 7 inch Acer Iconia Tab A110 available online for just $229.99
12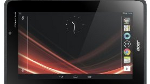 The
Acer Iconia Tab A110
is now available for just $229.99 online and this tablet should be in the conversation when you're looking at a low priced 7 inch Android model. It's not like this caught us by surprise as there has been
previous speculation surrounding an October 30th launch of the tablet at this exact price
. There are some differences between this device and the Asus built
Google Nexus 7
which we had previously discussed. While the latter has resolution of 1280 x 800 and a pixel density of 216ppi, the Acer 7 incher has resolution of 1024x 600 and a 170ppi pixel density. Both have the same quad-core 1.2GHz NVIDIA Tegra 3 processor and 416MHz ULP GeForce GPU, and share 1GB of RAM. Still, the Acer tablet offers a microSD slot for expandable storage, something missing from the Google Nexus 7. Also, the Acer tablet has an HDMI out slot, another port missing from the Google Nexus 7. On the other hand, the Google Nexus 7 has NFC support which is not available on the Acer.

Side views of the tablet
The tablet you select will really depend on
the features you need
. If you need the option of having a microSD card, the Acer will be your choice. If you need a screen where words can be easily read, the Asus built Google Nexus 7 should be your selection. If you need NFC capabilities, the Google Nexus 7 is your, uh, man. Whichever tablet you choose, you will be working with Android 4.1. The Google Nexus 7 is available at the Google Play Store and with the
new 32GB model priced at $249, the 16GB unit has been cut in price to $199
. Meanwhile, the Acer Iconia Tab A110 can be purchased online from Amazon. All you need to do is to click on the sourcelink.
source:
Amazon
via
Phandroid