Acer ICONIA TAB A100 Review
8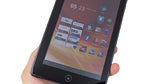 Introduction:
Shopping around for a tablet, we've been led to believe that the $500 price point is considered to be the safe level for most tablets, even for some of the smaller 7-inchers out there, but as we continue to see fierce competition, it's naturally expected to be lowered. Right out of the gate, the
Acer ICONIA TAB A100
carries along mostly everything offered by its bigger brother in the
ICONIA TAB A500
– but in a smaller package and better $329.99 price from the onset. However, we've been seeing some steep price drops with other comparably sized tablets, like the
HTC Flyer
and
BlackBerry PlayBook
, which minimizes the effect of Acer's offering. Then again, it might prove otherwise with its performance. Let's jump right in!
The package contains:
Acer ICONIA TAB A100
microUSB Cable
Proprietary Wall Charger
Start Guide
Product & Safety Information
Design:
To put it lightly, the ICONIA TAB A100 embodies the general design characteristics of its 10-inch big brother, but instead of utilizing a cheap feeling brushed metallic exterior, we're instead presented with a better feeling tough glossy plastic one. Plus, the design pattern found in the rear sprinkles a bit of style to it. Getting a good feel, we adore its better build quality and its compact form factor seeing that it's not as wide as some other similar sized tablets – allowing us to grasp it easily with one hand. Of course, there's a recognizable amount of weight to it, but it simply adds to the feeling of it being more durable.

Much like its esteemed colleagues, the tablet's
7" LCD display
features a resolution of 1024 x 600, which handily enables it to produce some detailed visuals. At the same time, our eyes dig its deep color tones when looking at the display straight on. On the other hand, its poor viewing angles and low brightness output make it nearly impossible to view outdoors. On top of that, it's wickedly susceptible to getting dirty very quick – and it doesn't help when it's difficult to clean.
Atypical amongst the Honeycomb slates, the ICONIA TAB A100 employs a
capacitive home button
beneath its display, which also happens to blink and light up for certain notifications. Meanwhile, a 2-megapixel
front-facing camera
is positioned above the display.
Peering over its sides, it's remarkably intriguing to fathom how Acer is able to cram so many
ports, buttons, and slots
to its body. On the bottom edge, it's littered with a bunch of things that include a reset button, left & right speakers, microHDMI port, dock port, microUSB port, and a proprietary charging port. Feeling its distinguishable physical buttons, we like the feel and responsiveness of its power button and volume rocker. Lastly, there's a plastic flap that can be removed to gain access to its microSD card slot – though, it also seems to be a placeholder for a SIM card slot.
Aside from the pretty design that's splashed on its
back
, there is a 5-megapixel auto-focus camera prominently highlighted by its large lens and chrome border – and its LED flash is perched nearby. Internally, the tablet packs tucks away two unremovable 1,530 mAh Li-Ion batteries that power the entire thing.
Recommended Stories