Google Nexus 7 32GB available now, HSPA+ model coming Nov 13th
19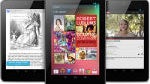 We expected a 32GB Nexus 7 to be announced, but that's not all we got today. We've gotten the
LG Nexus 4 announcement
, and the
Google Nexus 10 announcement
, and now we have two new models of Nexus 7 tablets including an HSPA+ model.
Other than the improvements of Android 4.2, the Nexus 7 tablets are what you already know. But, the best part about this announcement is that you don't have to wait if you don't want to. The 32GB WiFi-only Nexus 7 is available right now in the Google Play Store for $249, and the 16GB Nexus 7 has dropped to $199.
The 32GB Nexus 7 with HSPA+ built-in will launch along with all of the other new Nexus devices on November 13th, and will cost just $299.
So, we've got a new comparison: a 16GB WiFi-only iPad mini for $329, or a 32GB HSPA+ Nexus 7 for $299. Which would you choose?