Google Nexus 7 Review
57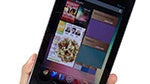 Introduction:
It's crowded arena in the consumer electronics industry. As we're all too familiar with by now, things live and die in a heartbeat, but for few that transcend above the crop, they live on in memory having a long lasting impact in the market. This is the case with many

popular device families

out there, such as Motorola's DROID, Apple's iPhone/iPad, HTC's EVO, and Samsung's Galaxy S line. Simply people, there are many reasons why companies continue to pump out devices that retain the monikers – not only for their brand recognition, but mainly because they invoke something more profound over previous offerings.
Google established itself as a premier force in the industry when they built Android from the ground up many years ago. However, it wasn't until the release of the original Google Nexus One that they also managed to solidify themselves as a hardware maker as well – albeit, it's despite the fact that another company (HTC) actually manufactured the device. Still, being graced with the "Nexus" moniker has its advantages – like being the first to feature a totally new Android experience. When we dig down further, the Nexus name continues to be the single point in the Android world where everything seemingly converges in the right proportions to offer users that authentic Android experience.
Previously, all Nexus devices released thus far have been smartphones, but this time around, Google decided to bring its Nexus to the table sphere. Catching some people by surprise, the Google Nexus 7 tablet redefines what it means to be a budget tablet. Oh no people, this isn't a quick rush out the door kind of job. Rather, this love child between Google and Taiwan-based ASUS is aiming to broaden the appeal of Android tablets as a whole. Furthermore, it doesn't skimp out in the hardware, as it boasts a

quad-core NVIDIA Tegra 3 processor

– much like some of its highly respected brethren. And did we mention that it's the first tablet to feature Android 4.1 Jelly Bean? Riding into the sunset at top gear, let's see how far the Google Nexus 7 tablet is able to go.
The package contains:
microUSB cable

Wall Charger

Quick Start Guide

Warranty Guide
Design:
We cannot stress about it enough, but ASUS has done an excellent job with the design of the Google Nexus 7 – especially when you factor in the kind of pricing constraints they had to deal with. Honestly, this isn't the first time we've come across a decently made 7-inch tablet, as both the Amazon Kindle Fire and NOOK TABLET showed us already. However, the Google Nexus 7 manages to inch out over its rivals, as it embodies all the qualities we'd expect to find in a device bearing the Nexus brand.
Although it maintains a conventional design from the onset, we actually find it more comfortable to hold and use since its edges are rounded to conform perfectly to our hands as we grasp it. On top of that, the rear casing has a tough rubbery feel to it, allowing us to not only have a proper grip in the hand, but it also maintains a clean appearance at all times. Sure, it's constructed out of mostly plastic, but you can rest peacefully at night knowing it's the tough kind that'll withstand most normal wear and tear. Rounding things out, it obliterates its competition by donning a super skinny (0.41" thick) frame and lightweight (11.99 oz) feel in the hand. Essentially, when you add in all of those elements, we're still at awe in wondering how ASUS has managed to pull it off – even more taking into account the price that it's flaunting.

The bezels surrounding the display are still wide enough to accommodate our resting thumbs – though, the top and bottom bezels are wider than the left and right. Nonetheless, we find them adequate with their spacing to enable us to easily hold onto the tablet with a single hand. As expected, the tablet sports the buttons-free approach with the surface of its display, however, the only item that stands out is the

front-facing camera

that's positioned squarely into the middle area of the top bezel. Interestingly enough, you can't take self-portraits with it, since there's no camera app. Instead, it's only activated with certain apps – such as video chatting with Google Talk.
On the

bottom edge

of the tablet, we're presented with its microUSB port for charging/data connectivity and 3.5mm headset jack. We would've preferred the jack to be positioned on the top edge since it gets in the way if we rest the tablet on a surface.
In the

bottom left corner

, there are four dock connection pins that enable it to be used with various accessories – while a pinhole sits nearby for its microphone.
Conversely, we can find both the power button and volume control in the

top right corner

of the tablet. Even though they're raised slightly to offer some distinction with our fingers, we still have just a tiny bit of difficulty in first feeling them out because they're positioned at an angle. Nonetheless, they're extremely springy with their response.
Finally, there's nothing in the

rear

except for a small strip towards the bottom that discretely hides away its speaker grill. Also, the "ASUS" and "NEXUS" names are etched into the tough rubbery surface of the rear casing. Obviously, we're forgiving in the fact that its 4,325 mAh battery isn't accessible, but it pains us to know that there isn't any sort of storage expandability with this one, since it lacks a microSD card slot. Undoubtedly, it's evident that compromises are needed to keep its cost at $200, but still, it makes us wonder how much of an increase we'd see.
Display:
Again, it's really hard to believe we're looking at a $200 priced tablet because it's sporting one pleasant looking

7" WXGA (1280 x 800) IPS display

with

Corning's Fit Glass

to give it strength. Indeed, it's not the most cutting-edge thing we've seen out there, but for a 7-inch tablet, it's something head above water from most of the pack. For starters, its resolution is rarely seen in the 7-inch form factor, which delivers a respectable pixel density of 216 ppi. Therefore, it's able to produce sharp details that make even the tiniest and faintest of text exquisitely legible to the eye.
And considering that this is an IPS panel that we're talking about, color production tends to be more natural looking when compared to other competing display technologies – like AMOLED. Rounding things out, it boasts some decent

viewing angles

and a high brightness output to maintain its clarity in almost all conditions. Even though it's more than visible on cloudy days outdoors, it still requires some shielding in direct sunlight. Overall, it's a nice looking display that no doubt gets the job done, but it isn't necessarily regarded as a class-leading thing.


Recommended Stories