Premium Samsung Galaxy S5 to have a diamond-coated chassis, fuse stainless steel with composites
46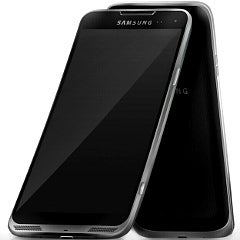 Korean media is reporting that the rumored
F series premium version of the Galaxy S5
is the one which will sport the metal body that's been bandied about numerous times regarding Samsung's next flagship. The chassis would in fact be a fusion of metal, plastic and composite materials to keep the weight in check, increase impact endurance, and improve reception.
The metal used will be stainless steel, the sources argue, with the battery cover being entirely made of metal, and molded with the plastic/composite parts, likely using the
NMT tech for seamless transition that HTC is so fond of
. Samsung apparently is also toying around with aluminum and magnesium chassis, as well as a sealed battery compartment for the "fashion" Galaxy S5 version, but cases in those materials will be hard to procure in the quantities Samsung needs, so it reportedly stuck with the stainless steel/removable battery cover design at the end.
We already heard that the Taiwanese from Catcher (the ones that make the aluminum bodies for HTC and Apple products)
have been selected to supply the test batches with various metal casings
, but Samsung is apparently worried about too much dependence on Chinese and Taiwanese companies, so it will allegedly keep the more mainstream stainless steel variation for the first shipments.
It is not your grandma's stainless steel, though, it seems, but rather diamond-coated one, which would allow light and tough cases with excellent corrosion resistance, achieved by applying carbon nanoparticles while baking the chassis at high temperatures. The production technology used, claims the source, is similar to what the Russian Ministry of Defense has developed for aerospace applications, and industry honchos have commented that it is a "
diamond coating technology that makes mass production and cost competitiveness key
," which sounds perfect for mass smartphone production.