Galaxy S5 might sport metal chassis, as Samsung enters its Design 3.0 phase next year
90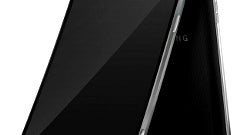 Upon the release of the
Galaxy S4
, a group of analysts were saying that this will be the
last Samsung flagship "in the shadow of Apple"
, meaning that the Galaxy line followed a certain design paradigm since it was conceived as a direct response to the initial iPhone success.
Next year, they iterated, all indicators pointed towards a major overhaul of the flagship phone that literally catapulted Samsung to where it is now. As if to back this up, Samsung official stated recently that they've been taken a bit by surprise by the ever-growing demand for their top Galaxy phone, and
went with chassis material that does the jo
b, yet can be quickly produced in multimillion copies in a short period of time.
Now an alleged insider from Samsung has reportedly confirmed that the company is indeed working on an
aluminum-clad
Galaxy S5
, like the concept render depicted in the thumb image, which would be more akin to what HTC did with the
One
, than the plastic Galaxy tradition. Of course, at this point the S5 is still a twinkle in the design department's eyes, so a lot of things might change between now and the eventual next spring unveiling.
The more premium materials for the Galaxy phone chassis seem to be a part of the new direction Samsung is rumored to take with the outer appearance of its Androids, called
Design 3.0
. Plasticky feel is the
main gripe pundits have had with Samsung's flagships
, so addressing that would be imperative next time, given that the competition has really woken up already.