Samsung Galaxy NotePRO 12.2 enters the S Pen arena with a new Magazine UX interface
19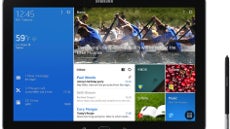 Samsung is
getting really serious with its tablet efforts this year
, said CEO JK Shin, and it shows with the announcement of the new Galaxy TabPRO series. The undisputed star here is the Samsung Galaxy NotePRO 12.2, which is the largest member of the S Pen-wielding family, and the most advanced, too.
Display and specs
The slate carries a 16:10 aspect Super Clear LCD display with 2560 x 1600 pixel resolution, ringing in the very respectable for the screen diagonal 247ppi pixel density - that's four million pixels for you. It is powered by a snappy "true octa-core" 1.9 GHz Exynos 5 Octa processor as far as the 3G versions are concerned, and 2.3 GHz Snapdragon 800 chipset runs the show if you get an LTE-equipped NotePRO.
The stylus-laden tablet sports a generous 3 GB of RAM amount, and will come in your choice of 32/64 GB versions, which share an 8 MP camera on the back, and a 2 MP front shooter for video chats. A huge 9500 mAh battery will keep it ticking for up to 10 hours, and the slate comes in the faux leather back with stitching accents that debuted with Note 3. At 295.6 x 204 x 7.95 mm it won't be the smallest out there, but is still coming very compact for the screen diagonal and S Pen silo feature. Things get hairy, however, as far as weight is concerned, as the NotePRO is roughly 750g in its 3G/LTE versions, which can come hefty on the wrist for prolonged usage.
New Magazine UX interface
Android 4.4 KitKat is what makes the tablet do its thing, but Samsung has coated it with a brand new tablet-oriented user interface, which it calls Magazine UX. As you can see in the press shots, it is akin to a traditional magazine face, which the largish screen diagonal allows, and offers tiled layout called "dashboard" for categorizing your favorite content in terms of news feeds and most frequently used apps. Since we also get the S Pen, features like Pen Window will come very handy on the large screen real estate, which, along with the Multi Windows mode will enhance your multitasking productivity, as you can now split the screen in four.
In addition, the Galaxy NotePRO will ship with a selection of pre-loaded apps, content and services worth up to $700 - Bitcasa, Bloomberg Businessweek+, Blurb, Cisco WebEx Meetings, Dropbox, Easilydo Pro for Tablet, Evernote, Hancom Office for Android, LinkedIn, LIVESPORT.TV, NY Times, Oxford Advanced Learner's A-Z, and Sketchbook Pro. The largest Note is expected to ship this quarter clad in black and white.