Potential for greatness: these 4 features could help the HTC 10 knock the Samsung Galaxy S7 aside
99+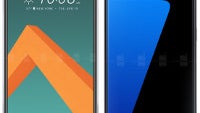 It's here, folks – HTC's flagship for 2016, named simply "
HTC 10
", is currently
available for pre-order
, with the first shipments scheduled for early May. As you probably know, it's a powerhouse — a Snapdragon 820 SoC, 4 GB of RAM, a very promising 12 MP camera, and a selfie camera outfitted with optical image stabilization.
So, it looks just as capable and powerful as its competitor flagships, but the reality is that the HTC 10 is arriving a bit late, and landing in a pretty hostile territory. The
Galaxy S7
and
LG G5
have already launched a month ago and they certainly drew a lot of attention. Samsung's metal-and-glass warrior definitely pleased fans by offering water-resistance, expandable storage, some camera improvements, an insanely (for the phone's size) large battery, more ergonomic shapes, all while maintaining its shiny looks. The LG G5, on the other hand, piqued interest with its
modular concept
and
Friends
accessories.
Does the HTC 10 stand any chance? Well, at first look, it does have its own package of niche-pleasing features. In fact, there are a few reasons why one might prefer the HTC 10 to the Galaxy S7 or even
S7 edge
. They are listed below: