HTC 10 Review
99+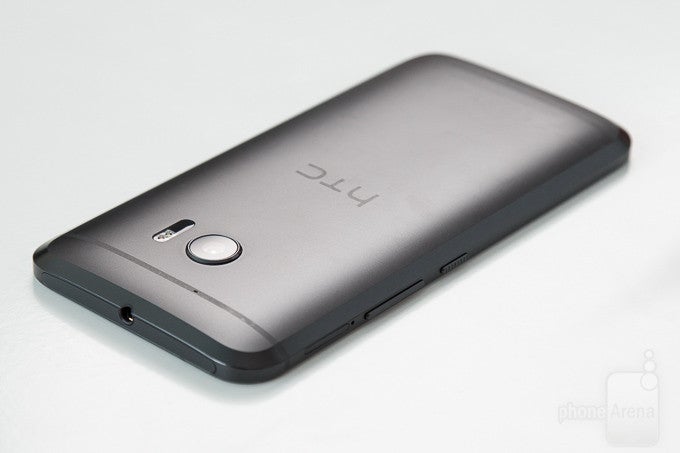 We all love us an underdog. But the story of HTC doesn't quitequalify it for the role. At the height of its power, the Androidpioneer was responsible for one out of four smartphones sold in theUnited States, and not by accident. But like so many other of thegiants of old—think Nokia, BlackBerry—the company's fortunes tooka turn for the worse. Rock bottom was last year in August, when theonce high-flying brand's stock was trading below cash reserves,meaning it was essentially worthless in the eyes of investors.
Things have gotten better since. But HTC is still an unwillingprisoner of the spiral of death, with every successive failed, oreven indecisive, quarter making a resurfacing next time around evenless likely. And despite the initial success of its new Vive virtualreality arm, one has to wonder just how much sweat and worry—butalso passion—went into the planning of its latest flagship phone,the HTC 10, to ensure a success.
With the 10, HTC must proveto the world that its wares are worth the dough. And theirs have beena tough sale lately, largely because of objective shortcomings thatthe HTC 'style' of doing things—a style we've always been attractedto—wasn't enough to cover for. So the 10 needs to be rock-solid bothon the inside and outside, while also doing a splendid job getting usthrough a busy day of life acrobatics.
Let's see how it does.
Design
Design isn't just about looks. The HTC 10 proves it.
Ask a person what they think of the design of anything and they'relikely to start yapping about looks. And sure, looks are importantand very much a part of design. But they're far from the be-all andend-all. And sometimes, we need devices like the HTC 10 to bereminded of that.
The HTC 10 not only looks great—it also feelsgreat. In the hand, it's substantial and pleasantly heavy in a waythat few phones are. From the chamfered edges on the back, throughthe solid aluminum body, the 10 is a smartphone with style. And it'salso cleverly engineered.
For example, those aforementionedchamfers aid handling ergonomics and help you forget the specs—thespecs that list the HTC 10 as 0.35 inches-thick (9mm), or more thanany competing flagship. And while the phone is ratherchunky, it feels like its thickness is a statement just as much as anengineering necessity. Also helpful is the ridged power button, whichis centered on the right side, with the volume rocker a bit higherfor a perfect, secure grip.
Turning our attention to the front, it's where HTC's design team letsus down the most. Adopting many of the characteristics of the HTC OneA9, the 10 isn't exactly striking when looked head-on. Probably thebiggest offender here are the weird proportions of the top and bottombezels, along with the home button which sits strangely off-center.
Available in silver and dark-graymattes, the HTC 10 strikes us as a rather masculine device. And whilein terms of looks it's not the prettiest phone out there, it's aglaring example of macho design—and that, to be fair, is not a badthing at all.
Display
Better than most.
One thing we used to appreciate HTC devices for were the displaypanels the company used. They were bright, mostly color correct andwithout the gaudy colors typical of AMOLEDs, and never went forstupid-high resolutions, trading efficiency for just a tiny bit moreclarity. Up to a point, this remains the case with the HTC 10.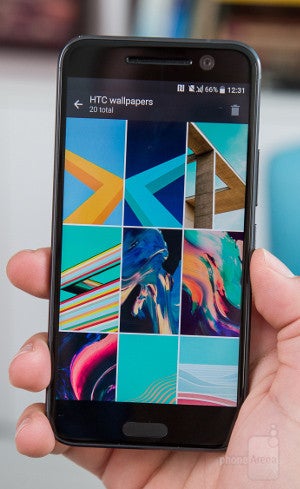 Things have changed, though. Perhaps most importantly, after sticking to5-inch displays for three consecutive generations, HTC has now movedup to a 5.2-inch Super LCD 5 screen that packs 1440 x 2560 pixels.That's a density of 565 ppi, or more than sufficient to ensureeverything you—or even a fighter jet pilot—end up looking at willbe extremely sharp. As for the 'Super' part, it simply denotes thatthere's no air gap between the front glass and the display itself,helping prop the image closer to your finger.
Speaking of the image, it's a good one overall, but not perfect. Dueto a disbalance between the primary Red, Green, and Blue (or RGB)colors, with the latter two towering above the former, there's aleaning towards a colder color temperature. In layman's terms, thismeans that the screen is bluer than it should be. As for overallcolor fidelity and gamma response, we're mostly pleased, even in thecontext of comparing the phone with other flagships.
A little bit of a disappointment after this showing was thebrightness of the phone, as it peaks at a little over 370 nits, whichis definitely on the lower end of the high-end spectrum. Still, thescreen is legible under sunlight, if less so than competingsolutions. Luckily, at 7 nits, minimum brightness is sufficiently lowfor nighttime usage.
UPDATE: HTC has sent us a new 10 unit, whose maximum brightness we measured at 430 nits. According to the manufacturer, this is the true luminance the panel is capable of, and there's been something wrong with our initial unit. We're willing to believe this is in fact the HTC 10's true max brightness level.
Finally, it should be noted that the HTC 10's software allows you totweak display metrics through two distinct screen modes: Vivid andsRGB (on which we've based our analysis above). The former is yourtypical, overly saturated, AMOLED-like mode, though both modes offerthe option to manually adjust color balance—which we did in orderto compensate for the bluishness.
Display measurements and quality