Best Buy has Verizon's 64GB Pixel 2 XL for $300 off, or 24 monthly payments of $22.91
4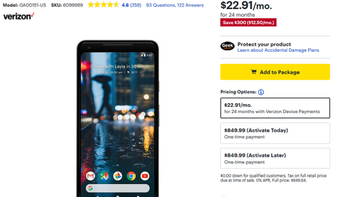 Case in point, the 64GB Pixel 2 XL. With the Pixel 3 XL coming next week, Best Buy has dropped the price of the 2017 model by $300. This is the Verizon branded variant of the phone, and the discount comes to play only if you agree to buy the handset using Verizon's 24-month payment plan. Instead of the 24 monthly payments of $35.41 that you might have paid a few weeks ago, the $300 discount takes the 24 monthly payments down to $22.91; the 128GB version will set you back just $29.13 a month over 24 months.
The beauty of saving some money with the Pixel 2 XL is that many of the new features coming to the new model,
such as Call Screen
, AI feature Playground, Duplex and Night Sight for pictures taken in low light, are all coming to the Pixel 2 XL over the next few weeks.
If interested in picking up the Pixel 2 XL and helping Best Buy empty its warehouse, click on the sourcelink below.