Google Pixel 2 and Pixel 2 XL Review
99+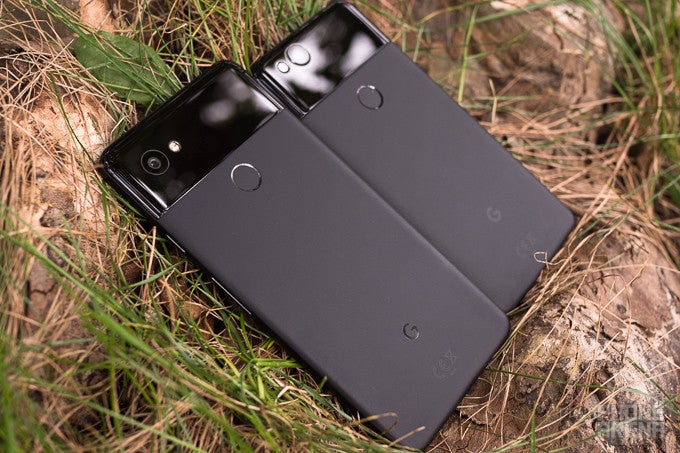 Update:

You can now read our Google Pixel 3 and Pixel 3 XL review!

Introduction
For all the flak both Apple and Google get for "copying" one another, it's genuinely interesting to watch how their very different paths through the smartphone landscape have converged time and time again. On the hardware front, we've watched Apple grow from a one-size-fits-all, take-it-or-leave-it approach to handsets to this year's lineup, with not just the greatest number of phones ever, but also a couple distinctly different designs.
Google, meanwhile, has evolved from selling hardware with a real enthusiasts-focused kick to come out with some eminently commercial handsets, with a very Apple-like level of polish and it-just-works user-friendliness.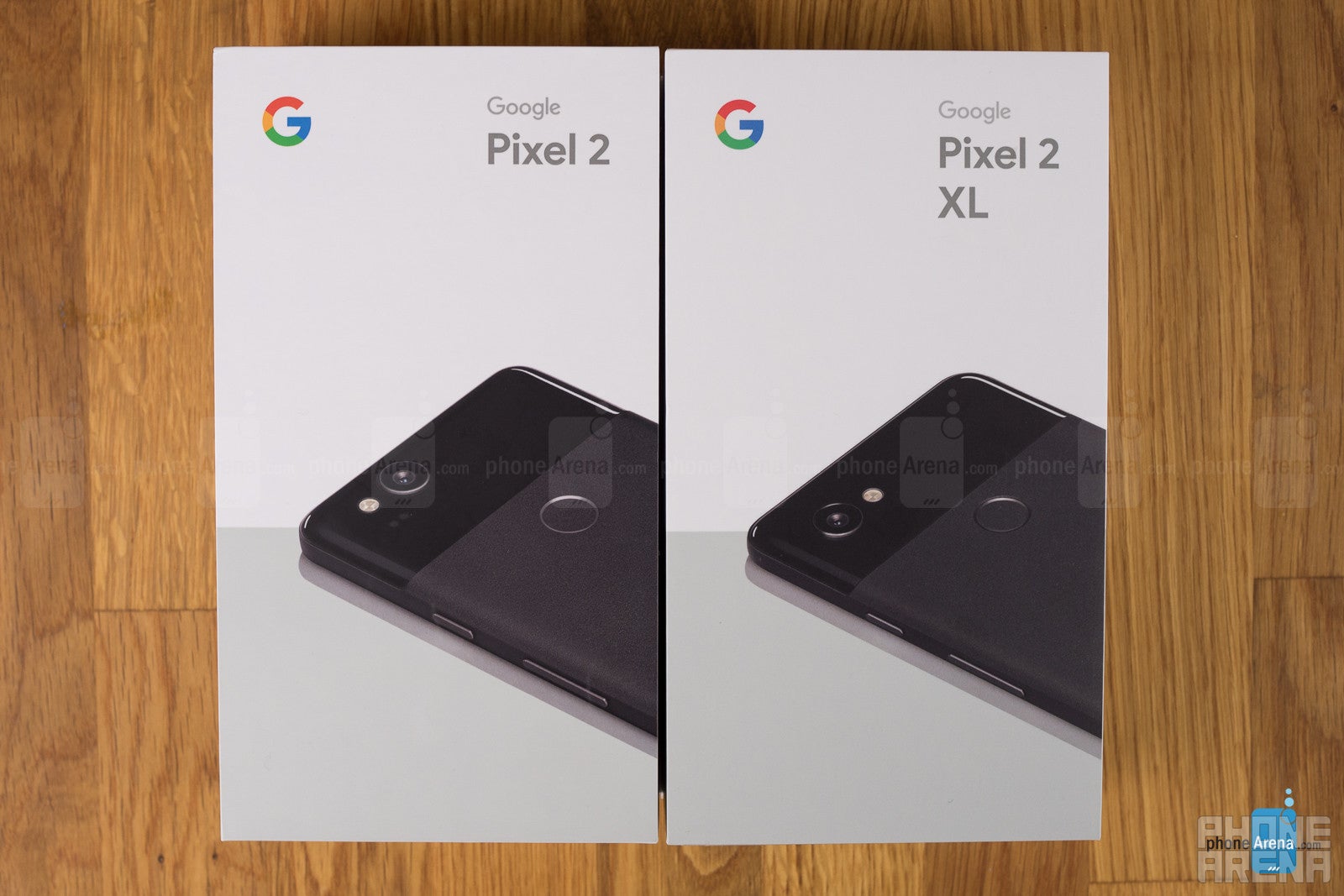 Last year really made that transition for Google undeniably apparent, as the long-standing Nexus line gave way to the new Pixel phones. While that new direction for Google's phone hardware was largely successful, giving us, among other things, one of the best smartphone cameras we used all year, it also wasn't without a few hiccups, and Google spent some time patching a variety of early glitches.
Now the Pixel phones are back, and Google's switching things up again. We've still got one Pixel and one jumbo-sized XL model, and while these two share a lot of common hardware, we're also getting a bit of an
iPhone 8
/
iPhone X
split, as the HTC-made
Pixel 2
with its traditionally-shaped 5.0-inch display goes up against the LG-built
Pixel 2 XL
and its curved-cornered, super-widescreen 18:9 6.0-inch screen.
With different manufacturers helping Google create this hardware, and fundamentally different screens on these two options, does this year's Pixel lineup lose some of its unity? How do Google-designed phones compare to the rest of 2017's very, very competitive lineup? And can we still look forward to some of that best-in-class camera performance?
We've been spending the last couple days with both the Pixel 2 and Pixel 2 XL in the hopes of answering just those questions.
In the box:
Google Pixel 2 / Pixel 2 XL
USB Type-C to standard A adapter
USB Type-C cable
USB Type-C charger
USB Type-C headphone adapter
SIM tool
Get-started booklet
Reference guide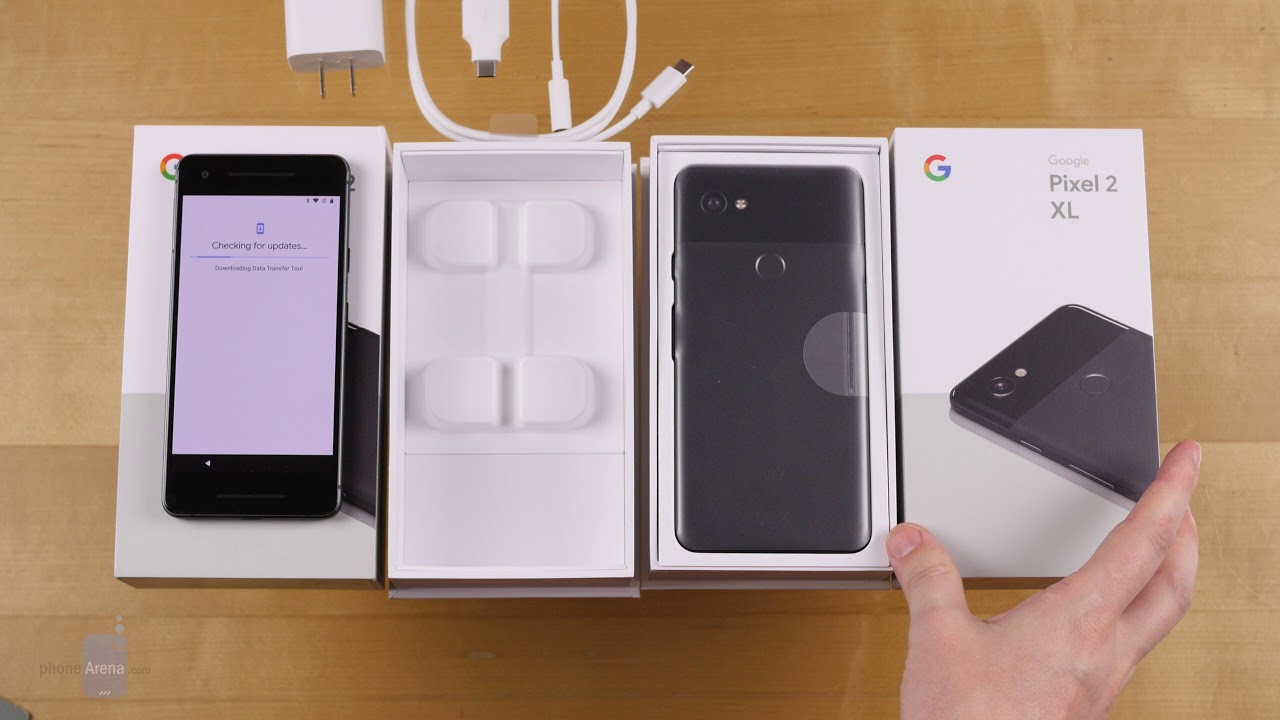 Design
Google's one-of-a-kind Pixel look gets a really well-done update – with a new phone shape, to boot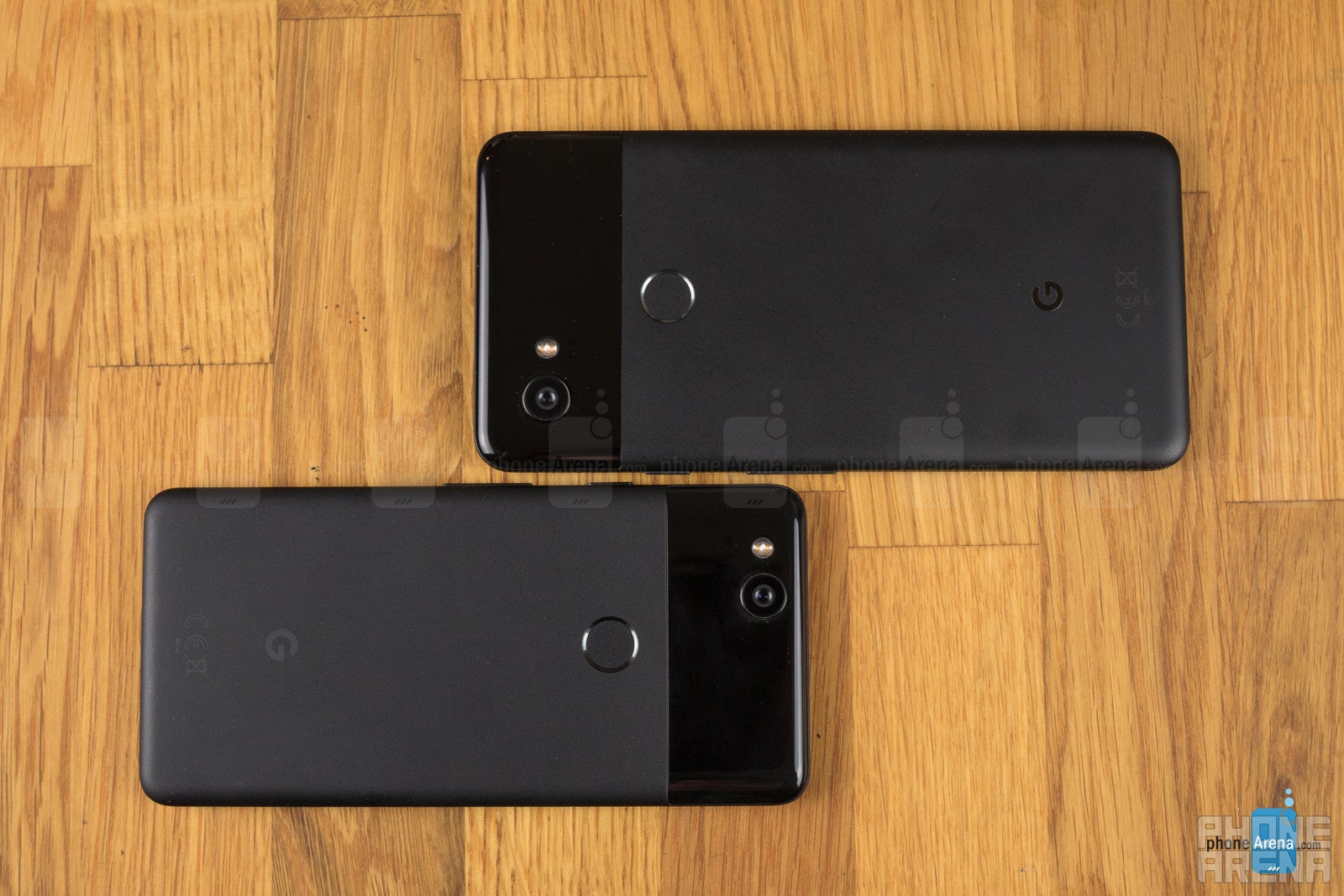 The original Pixel gave us one of last year's most unusual looks for a smartphone, thanks to the presence of its two-tone back: glass up top, surrounding the main camera and rear-mounted fingerprint scanner, and metal down below, which smoothly flowed across the rest of the rear plate and over onto the phone's edges.
For round two, Google's back with another trip down the same road, but one where the scenery's now just a bit different. While Google's once again using a combination of different materials, the top glass is far less pronounced, and now only lives in a narrowed band encompassing the phone's camera hardware.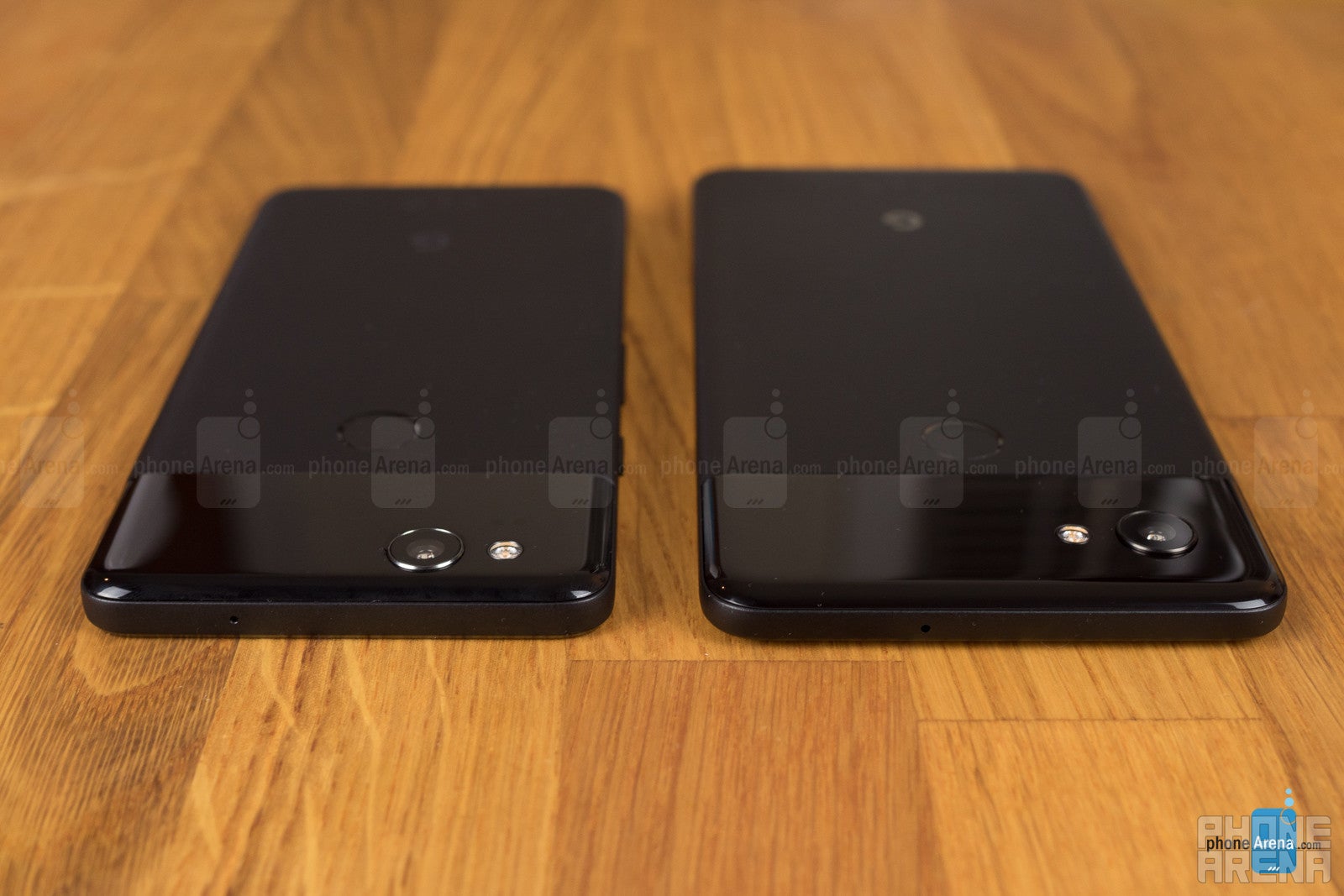 The phones are still built with an aluminum body, but instead of feeling the metal directly, this time it's topped by what Google's calling a "hybrid coating." It looks a bit like plastic, and feels almost ceramic, and while it's unusual to the point it caused us to do a double-take when first going hands-on with the hardware, we quickly came around to it. The rough matte finish feels all kinds of durable, and contrasts really nicely against the glossy glass above.
The top edge of both Pixel 2 phones is mostly bare, save for a tiny microphone hole. On the left side we have the SIM tray (if you're not doing the whole Project Fi embedded-SIM deal), and down below there's another mic and the USB Type-C port. On the right we find both the power button and volume rocker, though in an unusual power-on-top configuration (which caused us more than a few errant button presses). Notably absent is an analog headphone jack, either in a tip-of-the-hat to Apple's influence or HTC's involvement.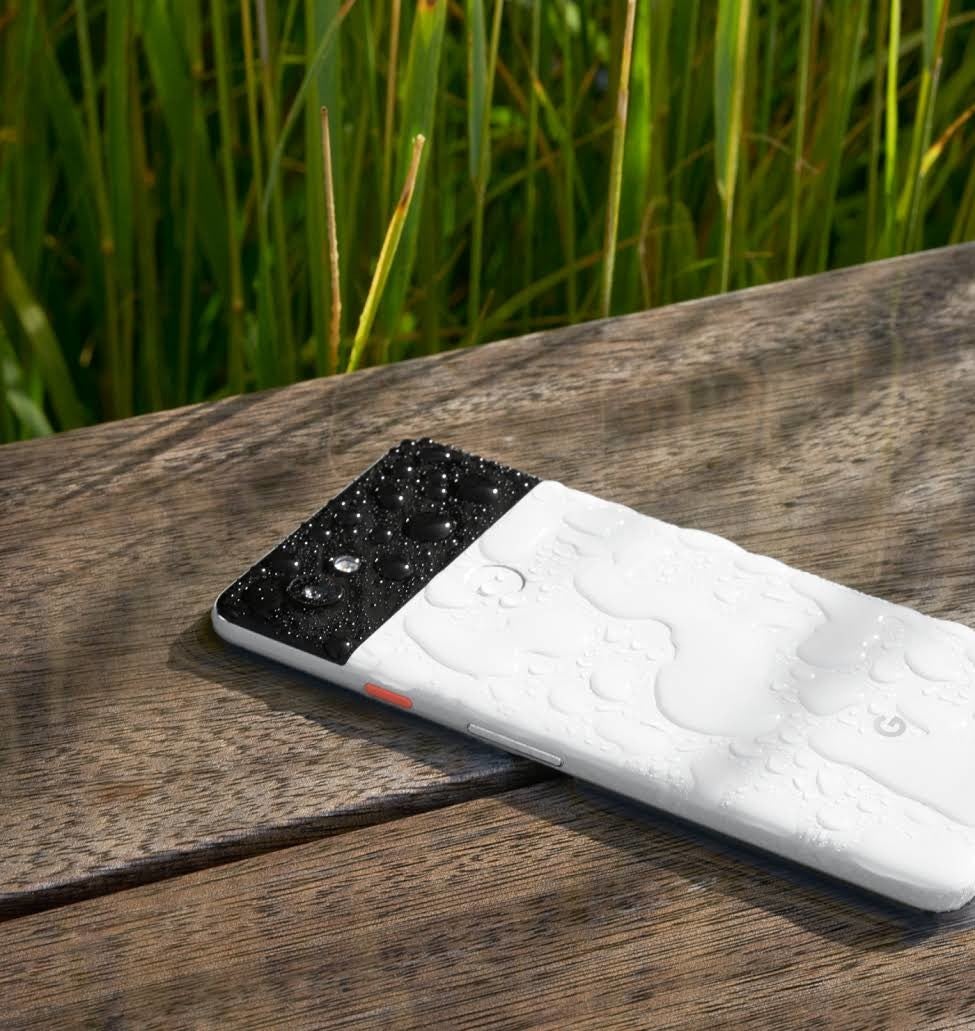 That's a controversial move, and one we'll talk about more in just a bit, but the port's absence does make one thing a little easier: waterproofing. Even still, the phones only score an IP67 rating, rather than the slightly more robust IP68 enjoyed by a growing segment of popular handsets.
Both Pixel 2 phones share that same basic construction, but we don't have to look far for differences to start cropping up. Understandably, the Pixel 2's got much larger top and bottom bezels than the Pixel 2 XL, as its standard 16:9 screen doesn't quite fill the phone's face. But no matter which model you choose, you get to enjoy the presence of stereo front-facing speakers; just on the Pixel 2, they're a little more offset from the handset's edge, while the 2 XL pushes them out to the periphery.
There's also noticeable difference in cross-section here. While both models are of comparable thickness, the Pixel 2 XL uses curved-edge glass on the front, and with matching curves around back, the handset's edge is much narrower than on the Pixel 2. Combined with the decreased width of the smaller phone, that makes the Pixel 2 substantially more comfortable to hold than the XL. There's also a bit of a "lip" around the XL's screen, preventing it from smoothly flowing into the edge. We imagine that's for protective purposes (or maybe for Active Edge), but it doesn't quite feel super-premium.
Finally, it may be the most minor of differences, but the Google "G" on the back of the XL is shiny and reflective, while the G on the smaller Pixel 2 is barely noticeable and made of the same material as the rest of the back panel.
Display
Google gives shoppers a welcome choice between standard or super-widescreen displays – with little compromise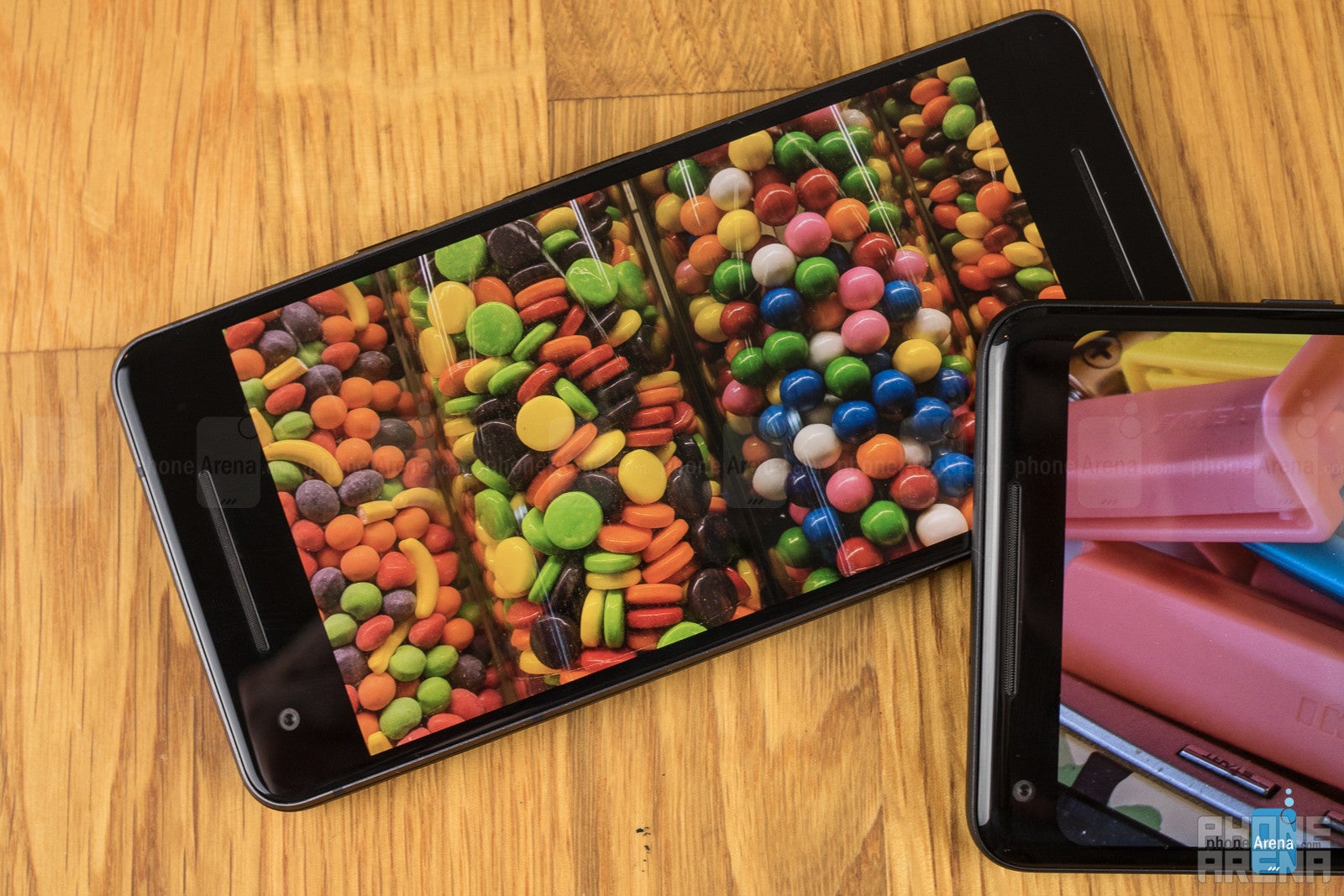 While there are a number of little differences between the Pixel 2 and Pixel 2 XL, none are more pronounced than the screens on these handsets. The Pixel 2 aims to recapture the spirit of the first-gen Pixel with the same sort of 5.0-inch, 1080 x 1920 AMOLED panel. Rather than just giving us a bigger version of the same thing, the Pixel 2 XL embraces the new look of extra-widescreen smartphones with a 6.0-inch 1440 x 2880 pOLED display. And if you had any doubts that LG was making this phone, look no further than the screen's curved corners – the display here is a near spitting image of the screen on the LG V30.
Compared to the V30, though, the Pixel 2 XL is a bigger smartphone, with not-quite-so-thin bezels. Part of the narrative of these super-wide screens has been that they attempt to fill as much of the phone's face as possible, so Google's implementation here feels a little like a half-effort. Yes, the very wide display is present, but the rest of the hardware isn't really taking full advantage of it. That same sentiment pops up again when we look at the phone's camera, which lacks 18:9 shooting modes for filming natively screen-filling content.
Going 18:9 is probably a step Google felt like it had to take, but compared to other ultra-widescreen phones we've gotten to know so far this year, the Pixel 2 XL doesn't seem as much like a fully-realized idea for how these kind of phones can improve over traditional designs.
Looking at the capabilities of these screens, both are able to produce the sort of bold, colorful content we expect from OLED screens, while thankfully also having an option to toggle "vibrant colors" off for a look that's a little more natural. In that standard mode, color accuracy is decent on both screens, and while nothing is really spot-on perfect (with reds in particular looking a little drab), it's a generally close, solid showing overall.
One really sore point, though, is screen brightness, and neither the Pixel 2 nor Pixel 2 XL have particularly bright displays. Of the two, the XL's capable of higher-intensity output, but the majority of phones we test still manage to do better than these. Sometimes a phone will save its brightest output for auto mode, but that doesn't seem to be the case with the Pixel 2 phones, and auto-brightness didn't step up to save either.
Display measurements and quality
Recommended Stories