Pixel 3 will screen your calls; feature to roll out to all Pixels next month
9
The
Pixel 3
and
Pixel 3 XL
, unveiled today, will include a new feature called "Call Screen" designed to keep you from having to speak to salespeople, or answer a call from a number you don't know. When a call comes in from an unknown caller, tap on the screen call button. The phone will take over, ask who is calling and the reason for the call. Meanwhile, a live transcription of the conversation is posted on your phone in real time. You can choose to pick up the call, send a quick reply, or report the call as spam.
Call Screen will be available out of the box on the Pixel 3 and Pixel 3 XL. It will come to the
Pixel
,
Pixel XL
,
Pixel 2
, and
Pixel 2 XL
some time next month. Also, remember the Duplex feature
that allows your phone to make a reservation on your behalf
? Last we heard, Google was working hard to make Duplex ready for prime time. Well, it appears that the work on Duplex is almost completed. Starting next month, all Pixel handsets will start receiving Duplex on a city-by-city basis.
Some of the other features that Google introduced for the Pixel 3 today will also find its way to the entire Pixel family. For example, Playground, the AI feature that allows Marvel characters and Childish Gambino to virtually appear in your photos and videos, launches today on the Pixel 3 and Pixel 3 XL. But it will be pushed out to all Pixel handsets soon.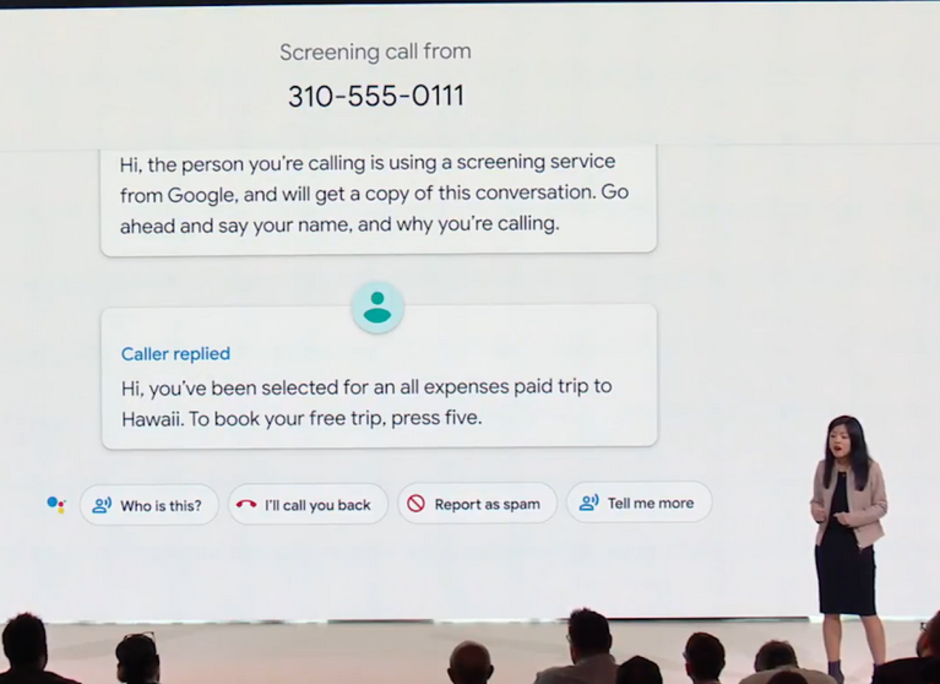 Call Screen will allow you to avoid spammers, telemarketers and others you don't want to speak to
source: Google

Recommended Stories