Performance issues delay Android Wear 5.1.1 for the Motorola Moto 360
24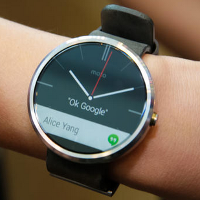 A tweet from Motorola suggests that the expected Android Wear 5.1.1 update for the Motorola Moto 360 watch has been delayed because of performance problems related to the update. According to the tweet, Motorola is working with Google to make sure that the software runs smoothly on the wearable.
Other Android Wear powered watches
have already received Android Wear 5.1.1
. The update brings Wi-Fi support to four Android Wear smartwatches, including the Moto 360 once that timepiece receives it. The other models include the LG Watch Urbane, Sony Smartwatch 3 and the Samsung Gear Live. The LG G Watch R
will receive Wi-Fi support in a future maintenance update.
With Android Wear 5.1.1, these five watches can remain paired to an Android handset even if a Bluetooth connection is lost. There is a caveat. The only Wi-Fi networks that these watches can connect to are those that were previously used by the smartphone that the watch is paired with. Meanwhile, other Android Wear 5.1.1 features include always on apps, the ability to change font size, and support for emojis.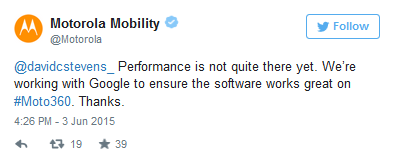 The Motorola Moto 360's update to Android Wear 5.1.1 is delayed
source:
@Motorola