LG G Watch R to receive Wi-Fi connectivity in a future "maintenance update"
21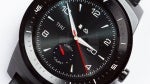 With the heavily publicized addition of Wi-Fi connectivity in
the Android Wear 5.1.1 update
, LG G Watch R owners expected their timepieces to become best friends with the home router. Well, much to their surprise, this didn't happen, prompting speculation that one of the nicest Android Wear watches around lacks a built-in WiFi antenna. The original LG G Watch didn't have one either, as it wasn't designed with network connectivity in mind.
Luckily, it turns out that the circular G Watch R was a more forward-looking device, as we get to learn — straight from LG's official statement — that the wearable has the necessary components in place, and ordering them to function is just a matter of a "maintenance update", which will be released in the third quarter. It's not made clear whether LG will push the new firmware themselves, or include it as part of a Google-issued Android Wear update.
The more curious among you might be left wondering why other AW smartwatches, such as the Moto 360, Sony SmartWatch 3, and Samsung Gear Live, automatically started beaming and receiving Wi-Fi signals after the Wear 5.1.1 update hit them, while the LG G Watch R needs some special tuning under the hood. Well, it turns out LG's watch wasn't designed with Wi-Fi in mind either, but the company apparently has a way to make it work on its own. Unfortunately, it won't be doing the same for the original LG G Watch, probably because the device is discontinued - Google and other retailers stopped selling it in late April.
LG's full official statement is available in the links below. While you're at it, check out
our review of the LG G Watch Urbane
, the company's latest foray into Android Wear, or take a plunge into the depths of wearable madness with Chris's
righteous outpour of anger at the Android Wear app
.