Lots of new features are coming to Office for Android in July
2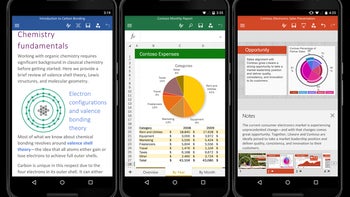 Microsoft has just unveiled all the new features it plans to add to its Office apps for Android devices in the month of July. Although an exact release date hasn't been confirmed yet, a list of improvements and new features coming next month is as good as it gets.
Outlook,
Word
, and PowerPoint are the Office apps that Microsoft has decided to update next month, all getting an equal number of changes. Before going into details, it's worth mentioning that you can already test these new features if you're an Office Inside by downloading the new apps via Google Play Store.
So, at some point next month,
Outlook for Android
will get the ability to delete contacts and a DnD (
Do Not Disturb
) mode, which will allow users to turn off email notifications when they want to.
Then, Word will receive word counter that does exactly that when you're scrolling your document. Also, you'll be able to zoom with better accuracy since the app will now fit the document to your screen.
Finally,
PowerPoint for Android
will allow users to access comments and notes, as well as read and edit slides much easier, regardless of the orientation of your device (portrait or landscape). The app will also gain the option to capture and share enhanced images with much fewer taps.
If at some point next month you'll see that any of the Office apps mentioned earlier are getting an update, you'll know what to expect from them.