Microsoft Word for Android has been installed over 500 million times
16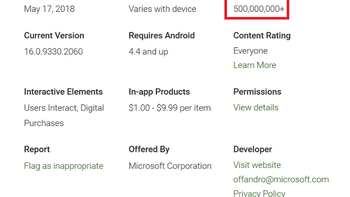 Microsoft Word for Android has become the first app offered up by Microsoft since Skype to have been installed over 500 million times. That tops other Microsoft apps for Android such as the Excel spreadsheet, the Outlook email consolidator and the OneNote digital note taker (more than 100 million installations each). While many of the features that a casual Word user would need are free, you do need a subscription to Office 365 for the full Word experience.
A Subscription to Office 365 for personal use is $69.99 for a year, or $6.99 a month. The whole house (up to 5 users) can be hooked up for $99.99 a year, or $9.99 a month. With the subscription, you get full versions of apps like Word, Excel, PowerPoint, OneNote, Outlook, Publisher (PC only) and Access (PC only). As far as Word for Android is concerned, signing up with Office 365 will allow you to use these features:
Track and review changes
Change page orientation
Insert page and section breaks
Highlight table cells with custom color shading
Enable columns in page layout
Customize headers and footers for different pages
Apply more colors for formatting
Add and modify chart elements
Use IRM-protected file support
Again, for most Android users, the free version will cover your mobile word processing needs. There are also in-app purchases available. If you haven't installed Microsoft Word on your mobile Android flavored device, you can do so by clicking on the sourcelink below.

Recommended Stories